There's nothing quite like taking a trip on the open road, whether it's a long weekend, or several weeks exploring a certain continent, and one popular option is renting a campervan to get you around. Motorhomes are large, rugged, and ideal for long trips, allowing you to travel in comfort and set your own itinerary. However, if it's your first trip, you might be wondering what kind of campervan you might want to rent. There are many variations between different types of vehicles, with certain models that will suit different groups, so here are a few things to consider.
Size and Berths
The size of a campervan is key, and you'll need to ensure that the vehicle you hire has a bed for each person, and that there's a seatbelt for each traveller. Look at the number of berths, as this will tell you how many people it can sleep, and see if the website has a floorplan for the campervan, so you can see whether there are double or single beds and how they're laid out.
Driving
Being able to actually drive the vehicle is also very important, so if you're a first time campervan renter then renting the biggest vehicle might not be the best plan. You should look at details such as:
• Transmission – Is it manual or automatic?
• The height and weight of the campervan
• Whether you'll be able to park it easily
• Whether you'll need off-road features
• Policies for additional drivers
By ensuring you have a vehicle that's easy to drive, you can be sure that getting around is easier and you can avoid unnecessary stress. You should also look at the safety features of the van, with newer models often offering superior features.
Driving in a foreign country can pose several difficulties, be sure you are comfortable driving on the other side of the road and have a good understanding of the road signs and traffic regulations in that country. Depending on what country you are in, you may have to be over a certain age (usually 21) to rent a vehicle, and you may also need either an International Drivers License, a license in the language of that particular country, or to convert your license – make sure you check this information out before handing over any money.
Type of Trip
Some people use their campervan as a base, going out into the wilderness and enjoying a simpler existence, whereas others enjoy all the home comforts and stay in RV parks with water and electric hookups. Therefore the right camper rental will depend on your style of travel, and how many extras you need. Of course, the more loaded with appliances and extras, the bigger the van, so you might decide to sacrifice a few extras in order to enjoy a more compact ride.
Off The Beaten Track
When you're planning to explore off the beaten track, a campervan can be great for getting around, as it allows you to have facilities for sleeping and eating without having to find a hostel. However, spending the odd night in a campervan versus spending a whole week out in the wild is very different, so you'll need to look at facilities such as:
Bathrooms – Some larger vans have toilets and showers, although the tanks will need to be emptied.
Water – If you don't have a water hookup you'll need a decent sized tank.
Heat – Even if the days are sunny, sleeping in a van can get cold without proper heaters.
Storage – If you're planning on going wild, then you'll be taking a lot of extra equipment. Extra storage will make your life easier and make the van feel more spacious.
Practical Extras
From bedding to towels, cutlery to plates, there are many extras that the average person will need when staying in a campervan, and different companies will offer different extras - so you might consider bringing your own to help you have some money. Other extras you might want could include GPS systems to help you get around, so take into account whether you need extras or not, and whether it would be best to rent or buy your own, when you price things up.
Insurance and Assistance
Finally, when choosing a campervan rental, you should consider the kind of insurance you'll be able to take out, the level of excess, and what it covers. For peace of mind it's a good idea to plan for the worst case scenario, and the right insurance will ensure there's no nasty surprises. Some rental policies also include roadside assistance policies, although they might not cover all eventualities, so consider taking out extra cover to protect yourself for more extreme circumstances.
Although you may be swept up by the romanticism of travelling in a campervan, it's important to think about the practicalities. Campervans are getting increasingly elaborate, with extras from dishwashers to king size beds, yet these extras aren't always necessary, and can make vehicles large and difficult to drive. Therefore, it's important to strike a balance between comfort and size, finding the right vehicle to suit your party and their needs, and ensuring an enjoyable trip for everyone.
You May Also Like To Read
About The Author
This is a guest article by Nicole Daniels
Nicole is a freelancer who specialises in travel writing. You'll often find her travelling in a camper rental to start her next adventure, or taking long hikes in destinations around the world.


Please let us know if you want to write a guest article, just like Nicole did.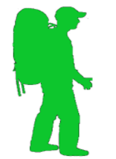 Keep updated by subscribing to our newsletter:
Did you find this helpful?
If you can't find the answer you are looking for Visit Our FAQ
If you still have unanswered questions in regards to this article, or anything else on this site, please Contact Us
Building and maintaining a website takes a lot of time, effort and money. If this website has helped or inspired you, a donation would be greatly appreciated. Thank you.