Go To China For...
Diverse Landscapes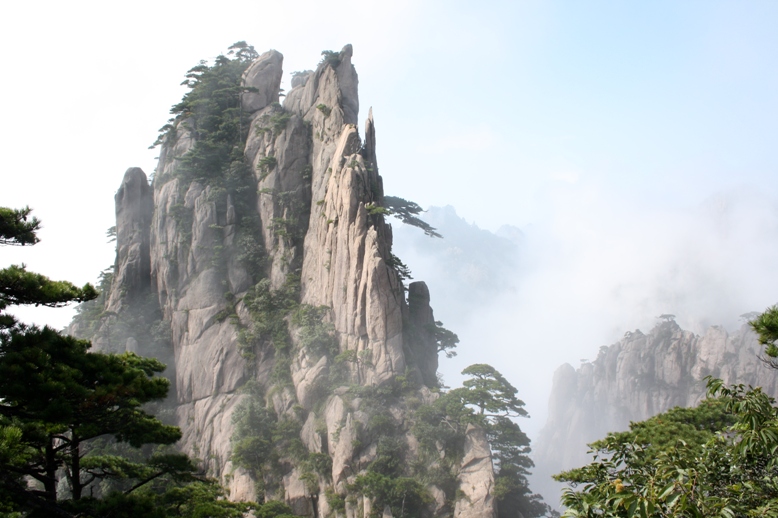 The unreal looking mountains of Huangshan.
Many people only envisage smoggy, overcrowded cities when they think of China, but the country is vast and exhibits some of the most diverse and spectacular landscapes on Earth. Highlights being Guilin, Huangshan, Jiuzhaigou Valley, and Wulingyuan, with literally hundreds of other areas of extreme natural beauty.
Unusual Sights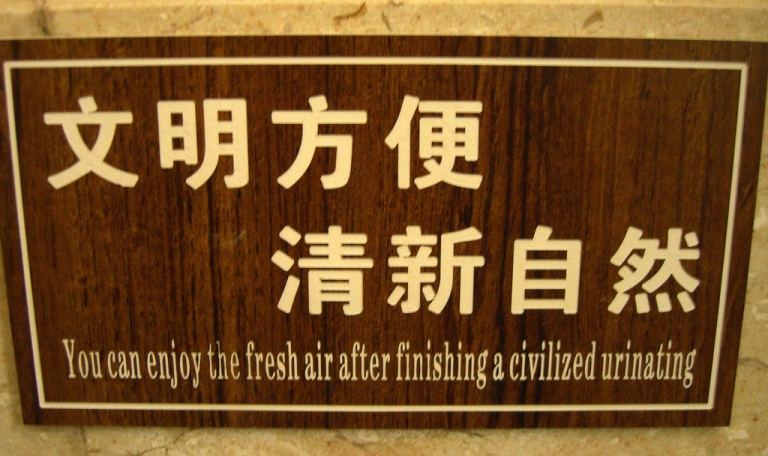 "Chinglish" is a very common sight.
If you want to leave your comfort zone, then China is a great place to visit - you will see so many things that you would never see back home. There are too many things to list, but you are sure to see bizarre items on sale at local markets, cases of copyright infringement everywhere and very peculiar behaviour from some of the locals.
Past & Future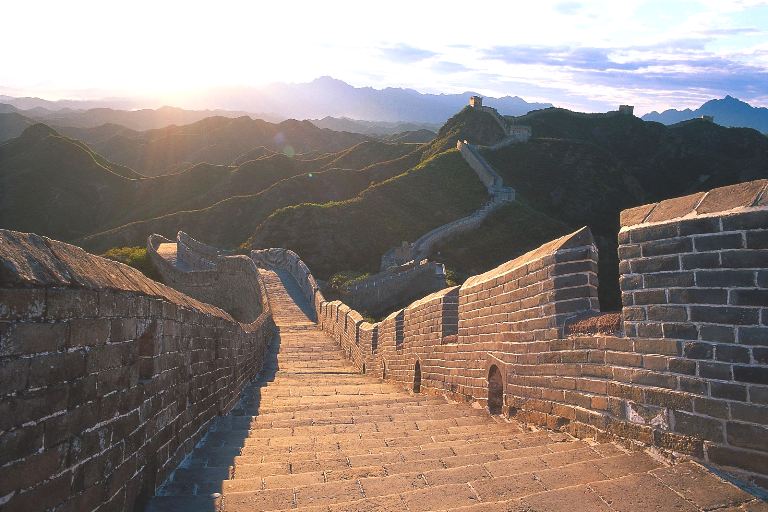 The Great Wall of China.
China is one the world's oldest civilizations, with an eventful and fascinating history, making for some great tourist attractions. The future is just as bright, just look at how Shanghai's skyline has changed over the past few decades, and whilst there, why not take a ride on the city's 268 mph magnetic levitation train.
Food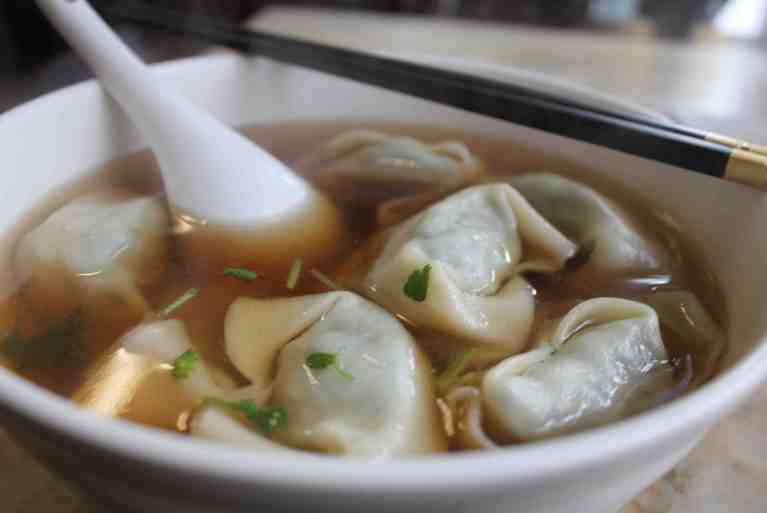 Dumplings.
Forget the food at your local takeaway, the real Chinese food is much more delicious and diverse, with each province having their own unique dishes. The cuisine is the main highlight for many visitors. If you are brave there are plenty of dubious delicacies to try as well.
Consider Going Elsewhere If You...
Value Your Freedom
China has a well documented and questionable record of human rights. Many places are off limits, visitors can be tracked and several websites are blocked.
Hate Crowds And Love Fresh Air
China is the most populated and polluted country in the world.
Top Places To Visit In China
China Need To Know
Basics
Language: Chinese Mandarin (and other local dialects)

Currency: Chinese Yuan Renminbi (CNY)

International Access Code: 00

Emergency Services Number: Police: 110 Fire: 119 Ambulance: 120
Entry
Most travellers will need a visa before arrival to visit mainland China. In most cases, this should be obtained from a Chinese embassy or consulate before departure.
A tourist single-entry visa is valid for a visit of 30 days and must be used within three months of the date of issue.
Your passport should be valid for at least 6 months from the date of your visa application. China doesn't recognise dual nationality.
Yellow fever vaccination is required for travellers arriving from countries with risk of yellow fever transmission.
You must register your place of residence with the local Public Security Bureau within 24 hours of arrival. Most hotels, hostels and tour companies will do this on your behalf.
Application processes and prices of visas vary with nationality. For official information of entry requirements to China contact your nearest Chinese Embassy or Consulate (Chinese Embassy to Britain).
Getting Around
For convienience, many people stick to organised trips when visiting large parts of China.
Flying is certain a likely choice of travel as the country is so large. Buying tickets in China, from travel agents and directly from airlines, is much cheaper than buying flights online.
Train travel is a good method for long distance journeys, the network covers the entire country and several high-speed lines are in service.
Only cash payments are accepted for tickets when travelling by train. You will need to show your passport to buy a ticket and may need to show it before boarding.
Buses are cheaper, but only really suited for short distances. Many major cities have subways and monorails for inner-city travel.
Avoid travelling in unmarked or unmetered 'taxis' and insist on paying only the meter fare.
Visitors and tourists are not allowed to drive in China.
Read more about Getting Around When You Get There here
Accommodation
China has a wide variety of hostels and you should never have any problem finding one.
The average price of a hostel is 30-100 CNY (approx £3-£10) a night.
The majority of hostels in China will provide linen and bathroom facilities. Usually there will be internet facilities as well as a common area and laundry services.
Budget hotels and guesthouses are cheap, especially if there is more than one of you. Prices start at around 80-120 CNY (approx £10) a night per room, but can be a lot higher.
Read more about Accommodation When You Get There here
Food And Health
Restaurants are cheap and cooking facilities in hostels are rare.
Food hygiene and safety is OK, but not up to Western standards. Use your instincts; if the place looks dirty, don't eat there; if your food isn't piping hot, don't eat it.
Tap water in China is generally not safe to drink. You should drink only bottled water.
Medical care is generally good in major cities, though some hospitals can be very crowded. Outside major cities, the standard of healthcare is variable. Healthcare is not provided free of charge in China and medical bills can be high.
Make sure you have accessible funds and comprehensive travel insurance covering healthcare for the duration of your stay.
Dengue Fever and Malaria are present in parts of China. Always contact your GP around 8 weeks before your trip to check whether you need any vaccinations or other preventive measures. Visit here for recommended vaccinations.
Weather & Time To Go
The typhoon season in China normally runs from May to November, affecting the southern and eastern coastal regions.
China is a huge country with many different climate zones, for more information on weather and the time to go, visit here.
Communications
Internet and wifi is widespread and accessible in most hostels and hotels. International calling cards are also cheaply available.
However, the Chinese authorities maintain controls on internet access. Websites like Facebook, Youtube and Twitter are blocked. Other websites or e-mail services (especially Google and Gmail) are blocked from time to time.
Dangers And Considerations
Foreign nationals must carry their passport at all times.
Take particular care if you're travelling in Tibet. Don't attempt to travel to Tibet without the appropriate permits.
You should also be particularly vigilant when travelling in the Xinjiang Uyghur Autonomous region.
The Chinese criminal justice system differs greatly from the western world. Police have the power to arrest, detain or withhold your passport if you are suspected of a crime. Suspects may be detained for weeks or months before charges are laid, and given a travel ban preventing them from leaving China.
There are extremely severe penalties for drugs offences, including the death penalty. The Chinese authorities undertake random drug testing on foreign nationals, if positive, the authorities can prosecute regardless of where or when the drugs had been consumed.
Major tourist sites and areas frequented by foreigners attract thieves and pickpockets. Take extra care at major tourist sites, street markets, Beijing International Airport, major international events and popular bar areas after dark.
High levels of air pollution in major urban and industrialised areas in China may aggravate bronchial, sinus or asthma conditions.
Gambling is illegal in mainland China.
China remains largely a cash economy. Outside major cities, credit cards are not always accepted and the availability of ATMs is limited.
Dangers constantly change. Always check with your foreign office (British Foreign Office webpage) or travel advice bureau for the latest information regarding your destinations safety.
Read more about Safety And Security here
Respecting Culture
China is a one-party state. Though China is very open to foreign visitors, you should be aware of political and cultural sensitivities in conversation with Chinese people.
Pointing with your index finger is considered to be very rude, instead point with your thumb. Beware not to point at statues of Buddhas or other deities.
There are restrictions on certain religious activities, including preaching and distributing religious materials.
Tipping is not necessary, heard of, or advised.
If visiting somebody's home, it is polite to bring a small gift.
If hosts provide food, leave a small amount on the plate when you are finished. It is considered shameful if hosts can't fill up their guests, and if you clear your plate it is implied that you're still hungry.
Share This
You May Also Like To Read
Destinations
Keep updated by subscribing to our newsletter:
Did you find this helpful?
If you can't find the answer you are looking for Visit Our FAQ
If you still have unanswered questions in regards to this article, or anything else on this site, please Contact Us
Building and maintaining a website takes a lot of time, effort and money. If this website has helped or inspired you, a donation would be greatly appreciated. Thank you.