Go To Japan For...
Cultural Immersion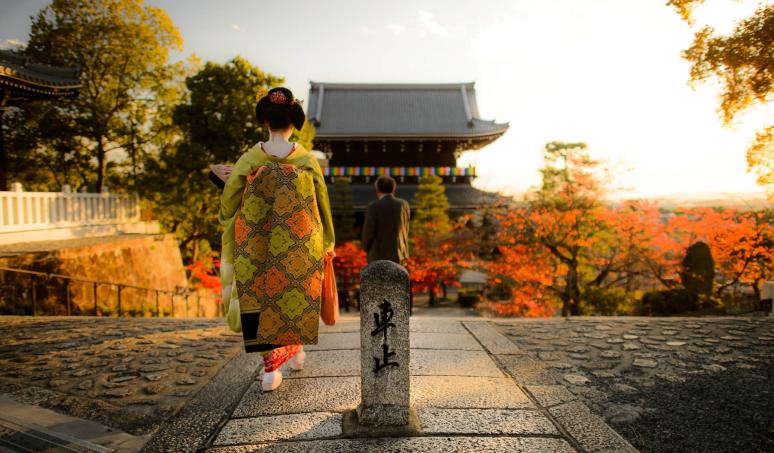 Geisha outside Kurodani Temple, Kyoto.
Japan has such a exclusive culture, it really is unlike any other, and you can effortlessly submerge yourself into it.
Unusualness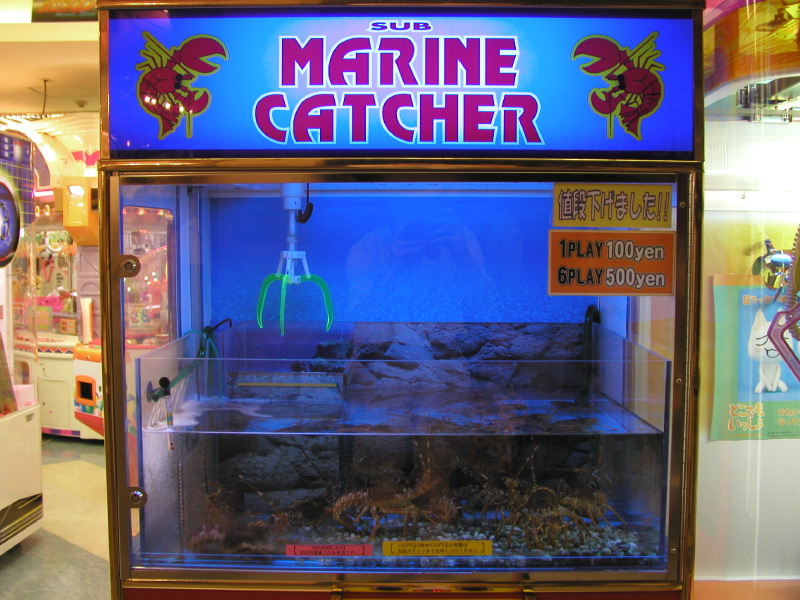 An arcade game/ vending machine in Osaka where you can catch live lobster.
Japan is a very unique country and so you'll see many peculiar and bizarre things everyday you're there, such as giggling ATMs, robot run restaurants, an all manner of vending machines and of course the infamous Japanese toilets.
Transport & Technology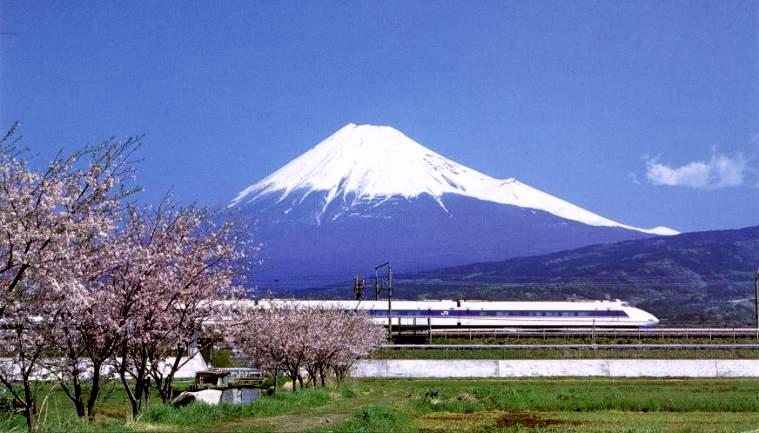 Shinkansen (bullet train) travelling past Mt Fuji.
Gliding along at 300km/h on a bullet train certainly beats the long, uncomfortable bus rides usually associated with backpacking. Daily life in Japan is also packed full with awesome technology and cool gadgets.
Hospitality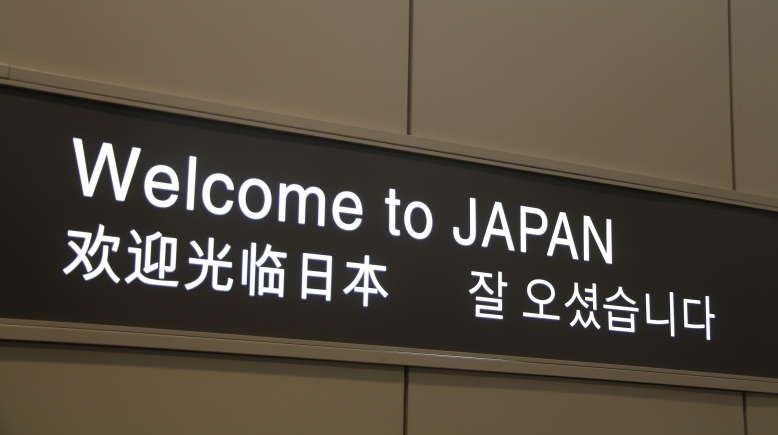 Airport Welcome.
The Japanese, for me, are the kindest and politest people on the planet. During your travels in Japan you'll be complimented countless times, given numerous gifts and always feel welcome. Japan is also one of the safety countries in the world to travel.
Consider Going Elsewhere If You...
Are Prone To Homesickness
As mentioned above, Japanese culture is in a world of its own. For some this is brilliant, but if you are the type of person that can't go without certain home comforts you will undoubtedly be in for a big culture shock - there is very little diversity or western influence. The huge language barrier will only alienate you further. If you are prone to homesickness you may be best to visit Japan for a shorter period of time.
Don't Like Fish
If you are like me and you don't have a taste for fish, you may have your trip slightly tarnished. The Japanese love fish, you can smell it in every marketplace and taste it in most meals, not just the sushi, fish sauce is often used in all sorts of dishes – it is tough to get away from.
Top Places To Visit In Japan
Japan Need To Know
Basics
International Access Code: 010

Emergency Services Number: Police: 110 Fire & Ambulance: 119
Entry
Citizens of most Western nations can visit Japan for up to three months without a visa, but you may need to provide evidence of a return or onward ticket.
Your passport should be valid for the proposed duration of your stay. No additional period of validity beyond this is required.
For official information visit www.mofa.go.jp.
Getting Around
Japan has a world renowned transport infrastructure and you are almost guaranteed to reach your destination on time.
Trains are by far the most popular way of getting around Japan, they are fast, highly efficient, fairly cheap and cover the majority of the country. Be sure to arrive early to the station - Japanese trains almost always leave dead on time.
Japan's railway system can be confusing (especially within large cities like Tokyo). This is firstly because of the language barrier and secondly because there is the overlap of several private railway networks with the JR (Japan Railways) public network. Therefore it is best to plan ahead, HyperDia provides route and timetable information.
By far the best option for those who plan to travel by train frequently is the Japan Rail Pass, which allows unlimited travel on nearly all JR trains, including the Shinkansen (bullet train), for a fixed period of 7, 14 or 21 days.
Japan's bullet trains mean that flying isn't really necessary, however catching a plane is certainly the most practical way of getting to Japan's outlying islands, particularly from the mainland to Hokkaido, Okinawa, and Kyushu.
Long distance buses are significantly cheaper than the Shinkansen, but will be more uncomfortable and take much longer. Additionally part of the Japan travel experience is to go by bullet train.
Taxis are everywhere in Japan, not just the cities. They are extremely clean and completely safe, but quite expensive.
Renting vehicles isn't common as public transport is so good, plus the roads are usually clogged with massive traffic jams and parking is expensive and difficult to find.
Japan is a safe and excellent country for hitchhiking, although you will almost certainly need some Japanese language skill.
If you consider purchasing a bike, be aware that you need to have it registered. If your bike does not have the proper registration sticker, your bike can be confiscated.
Read more about Getting Around When You Get There here
Accommodation
Japan has a wide variety of hostels and you should never have any problem finding one.
The average price of a hostel is ¥2,000 to ¥4,000 a night.
The majority of hostels in Japan will provide linen and bathroom facilities. Usually there will be internet facilities as well as a common area and laundry services.
Read more about Living In Hostels here
Capsule hotels are a must try experience when visiting Japan. They are the ultimate in space-efficient sleeping; the capsules are mattress sized cuboids, stacked together in a large room or hall with tens if not hundreds of other capsules. You will usually have a control panel for operating the lights, and depending on how much you are paying, maybe an alarm clock and TV as well. They cost around ¥3,000 to ¥4,000 a night.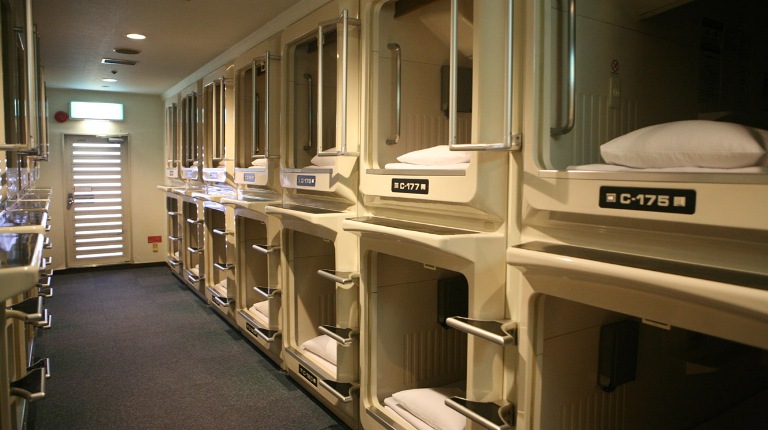 Capsule Hotel.
Ryokan's (traditional Japanese inns) are also great a experience, although owners may be reluctant to host non-Japanese guests and they can cost a considerable amount more money than a hostel or even hotel.
Normal hotels are probably out of most backpackers price range in Japan - starting at about ¥5,500 per night.
If you're staying in one place for over a month you may be able to reduce your living costs by staying in a Gaijin House.
Read more about Accommodation When You Get There here
Food And Health
Japan has an excellent standard of food safety and hygiene. There are many places to eat out cheaply, if you do not wish to cook.
Water is completely safe to drink from all kitchen taps in Japan, unless stated.
Medical facilities are good, but the cost of treatment is high. You will be expected to pay the whole cost of any treatment you receive. Make sure you have adequate travel health insurance and accessible funds to cover the cost of any medical treatment abroad.
Dengue Fever is present in Japan. Always contact your GP around 8 weeks before your trip to check whether you need any vaccinations or other preventive measures. Visit here for recommended vaccinations.
Weather & Time To Go
Spring is the best time to visit Japan - warm but not hot, little rain, and around March and April the famous cherry blossoms come out.
There is usually heavy snow in Hokkaido during the winter, which is a great for skiing.
The typhoon season runs from June to December with most activity between July and September.
Communications
Only 3G and 4G capable handsets will work in Japan.
Internet and wifi is widespread and accessible in most hostels. Local pay-as-you-go SIM cards for your mobile phone and international calling cards are cheaply available.
Dangers And Considerations
You must carry your passport at all times.
There is a continuous risk of earthquakes and tsunamis throughout Japan and travel is advised against to the exclusion zones around the Fukushima Dai-ichi nuclear facility. Before approaching a volcanic area, check the latest warnings on the Japanese Meteorological Agency website.
Crime levels are low. It is generally safe to walk about at night and to travel on public transport, but groping of female passengers on commuter trains is fairly common. The police advise that you shout at the perpetrator to attract attention and ask a fellow passenger to call the train staff.
The Roppongi entertainment district of Tokyo is considered a higher risk area for crime, where drink spiking is common in order to fraudulently use people's credit card once they pass out.
Japan has a zero tolerance towards drug crime and there are severe penalties for all drug offences.
Penalties for most criminal offences tend to be severe. Detention, including for minor offences, is longer than in most nations and prison regimes in Japan are very strict.
The use or possession of some common prescription and over-the-counter medicines are banned under Japan's strictly enforced anti-stimulant drugs law and ignorance may not be considered a defence. This includes Vicks inhalers, medicines for allergies and sinus problems and even some mild painkillers like those containing codeine. More info here.
Dangers constantly change. Always check with your foreign office (British Foreign Office webpage) or travel advice bureau for the latest information regarding your destinations safety.
Read more about Safety And Security here
Respecting Culture
If visiting a shrine, temple or public bath follow the appropriate cleansing procedure, which will often be explained before you enter.
Shoes are considered very dirty by the Japanese. Take off your shoes before entering homes and hostels and avoid pointing your soles at anybody.
Avoid physical contact in public such as kissing and hugging, it is typically very awkward and uncomfortable for Japanese people.
Loud, boisterous behaviour is not acceptable in Japan. This includes using your mobile phone on public transport.
Tipping is not necessary, and can be considered offensive.
Blowing your nose in public is considered rude, you will hear people sniffing all the time on the trains because of this.
Bowing is an integral part of Japanese society, but for foreigners a "token bow" is fine and many locals will happily offer a handshake instead. Men bow with their hands to their sides, women bow with their hands together settled in their lap (not in a prayer position like in Thailand).
When handing something to someone, it is considered polite to present it with both hands.
When drinking sake or beer in a group, it is considered polite not to fill your own glass but to allow someone else to do it for you.
Try to learn and use a little of the language. Japanese people understand the language is very difficult for foreigners, and they will respect and compliment you for trying.
Gift-giving is very common in Japan. As a foreign guest you may receive gifts, but aren't obliged to give gifts, although it may be a nice gesture.
Discussions about World War 2 are best avoided.
Share This
You May Also Like To Read
Destinations
Keep updated by subscribing to our newsletter:
Did you find this helpful?
If you can't find the answer you are looking for Visit Our FAQ
If you still have unanswered questions in regards to this article, or anything else on this site, please Contact Us
Building and maintaining a website takes a lot of time, effort and money. If this website has helped or inspired you, a donation would be greatly appreciated. Thank you.