Go To Laos For...
Humbleness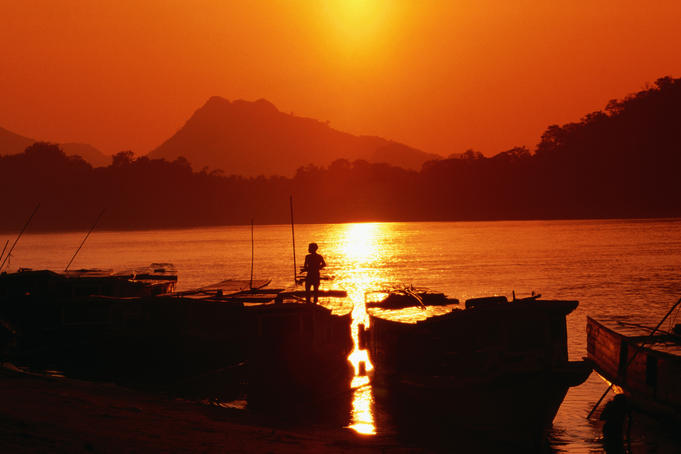 Many people make a humble living off the Mekong river.
Laos is one of the poorest countries in the world and everyone and everything is so modest. Travelling around Laos will make you appreciate the little things in life and realise just how lucky you are.
Authentic Indochina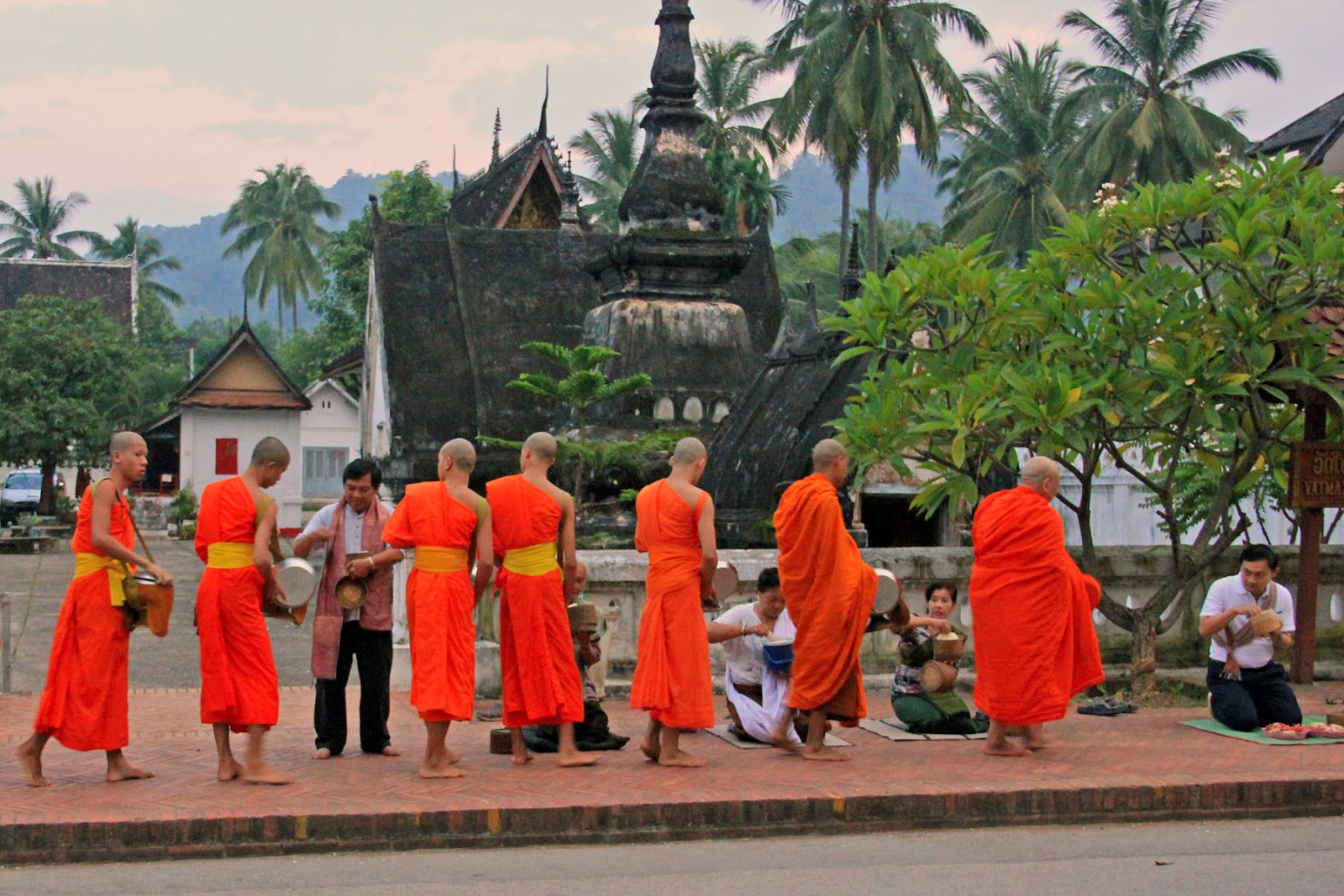 Almsgiving in Luang Prabang
Unlike neighbouring Thailand, Laos remains very authentic, and there are much fewer tourists. With the exception of Vang Vieng there is very little western influence. There is doubt as to how long this will last, as popularity continues to grow – so get there fast.
Super Cheap Travelling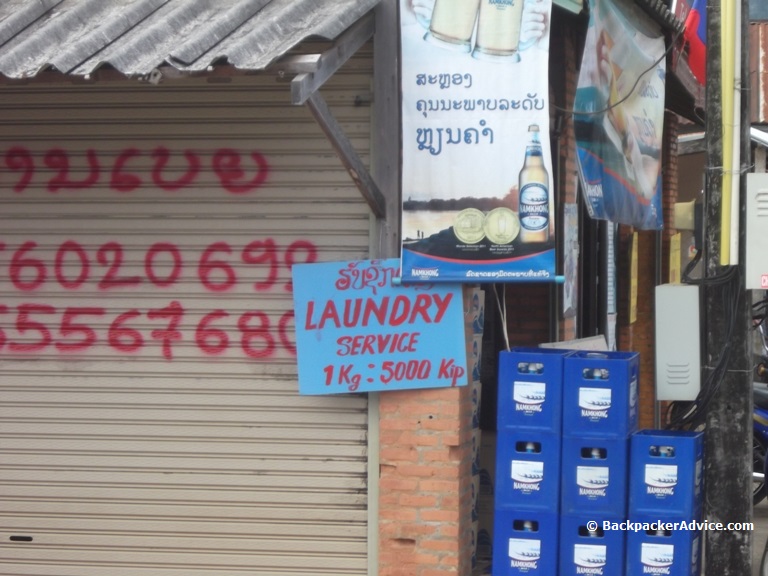 Get your laundry done for 5,000 Kip (that's 39p!)
Due to the humbleness and lack of tourists, everything in Laos is extremely cheap, making it a great destination for travellers with small budgets.
Mountainous Landscapes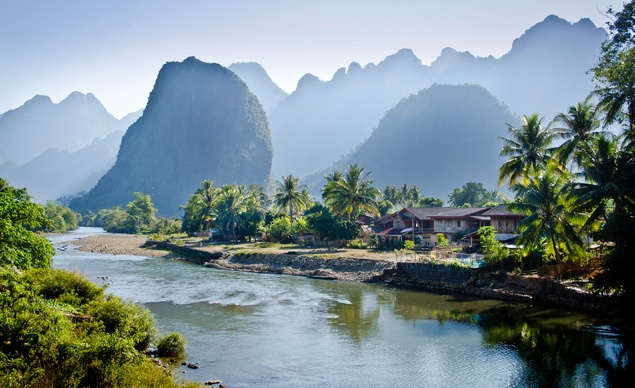 Vang Vieng
Probably the main thing you will notice about Laos is just how magnificently, beautiful the scenery is wherever you go.
Consider Going Elsewhere If You...
Want To Travel Fast
Getting around Laos isn't quick or easy. Roads are long and windy, and 80% of them are unpaved - although major routes (i.e. Vientiane to Luang Prabang) are asphalt. There are no train lines, and buses (the main form of transport) are slow and unreliable.
Can't Cope Without Western Amenities
Obviously the down side to Laos' authenticity is that it isn't very westernised. Amongst other things, you are very likely to experience cold showers, power cuts and a lack of toilet paper during your trip.
Top Places To Visit In Laos
Laos Need To Know
Basics
Language: Laotian (French, English, Thai, Vietnamese may also be spoken)

Currency: Kip (LAK); US Dollar and Thai Baht may be accepted

International Access Code: 00

Emergency Services Number: Tourist Police: 192; Ambulance: 195
Entry
Visa conditions change regularly, for official visitor information contact the nearest Lao Embassy or Consulate, or your foreign office website.
You can get a visa on arrival for one month, for around US$35 or 1,500 Thai Baht. You can also get a long-stay visa from the Lao Embassy in Bangkok or Hanoi.
When you enter Laos, make sure you get an entry stamp in your passport. Not having a legitimate entry stamp could lead to arrest or a large fine.
Your passport should be valid for a minimum period of 6 months from the date of entry into Laos.
Getting Around
As mentioned above, getting around Laos isn't quick or easy.
The main way of getting between major towns are by bus, minibus, or converted truck. The quality of roads and buses are not as good as neighbouring Thailand.
You have three transport options when travelling around local vicinities; bike, tuk-tuk or songthaew. Always negotiate the price of a tuk-tuk or songthaew to avoid being ripped off.
You can rent motorcycles from Vientiane, but will struggle elsewhere. You legally need a motorcycle licence, so expect to pay a fine if caught without one.
Many people enter Laos from Chiang Khong in Thailand, then take a slowboat from Houai Xai down the Mekong to Luang Prabang. The journey is very scenic, but takes two days and can get very boring if you are travelling alone.
Lao Airlines operates nearly all domestic flights. Their safety history isn't the best, but has largely improved in recent years.
Read more about Getting Around When You Get There here
Accommodation
Laos has a wide variety of hostels, budget guesthouses and mid-range hotels in major towns and tourist destinations.
Off the beaten track or in rural areas you will be limited to very basic hotels or homestays. The average price of accommodation is 25,000-50,000 Kip.
Accommodation is extremely cheap throughout Laos. Most will provide linen and bathroom facilities. Usually there will be internet facilities and laundry services.
Read more about Accommodation When You Get There here
Food And Health
Restaurants are cheap and cooking facilities are rare.
Water borne, food borne and other infectious diseases are common and serious outbreaks occur from time to time. Use your instincts; if the place looks dirty, don't eat there; if your food isn't piping hot, don't eat it.
Water is not safe to drink - always buy bottled or boil.
Medical care in Vientiane is extremely basic and outside the capital there are no reliable facilities to deal with medical emergencies. Make sure you have adequate travel health insurance and accessible funds to cover the cost of any medical treatment abroad and repatriation.
Dengue Fever and Malaria are present in Laos. Always contact your GP around 8 weeks before your trip to check whether you need any vaccinations or other preventive measures. Visit here for recommended vaccinations.
Weather & Time To Go
Laos' climate is tropical and the rainy season normally runs from May to November. Flooding can cause travel problems in this period.
Communications
Internet and wifi is generally slow, but widespread and accessible in most hostels and hotels. International calling cards are cheaply available in large towns.
Dangers And Considerations
Unexploded mines and ordnance in rural areas are an ongoing danger. Take care, heed local advice and look out for warning signs. The risk is particularly high in Xieng Khouang Province (Plain of Jars), Luang Prabang Province (not city) and areas of the Lao-Vietnamese border. Don't stray off main routes in rural areas, and don't pick up metal objects.
Carry an ID document or passport at all times. You will be heavily fined if you don't present ID on request.
Petty crime, including bag snatching occurs frequently, especially in tourist areas. The theft of passports is a particular problem.
Local law enforcement responses to crimes, even violent crimes, are often limited.
There have been several deaths from drug abuse among foreign nationals visiting Laos. Some tourists have had drinks or food spiked with drugs. Some restaurants in popular tourist destinations offer drug-laced food and drink which has led to victims being assaulted.
Possession, trafficking and manufacture of drugs are serious offences. Those caught face lengthy prison sentences or the death penalty.
The Lao Government prohibits sexual relationships between foreign and Lao nationals, except when the two parties have been married in accordance with Lao family law.
Photographing or visiting military sites is prohibited and can result in arrest or detention.
Travel on the Mekong River by speedboat is dangerous especially when water levels are low.
Laos does not have a good health and safety standard. Water-based activities such as tubing, rafting, and even swimming in the Mekong, are dangerous and incidents of drowning and serious injuries have been reported.
Dangers constantly change. Always check with your foreign office (British Foreign Office webpage) or travel advice bureau for the latest information regarding your destinations safety.
Read more about Safety And Security here
Respecting Culture
When visiting temples and religious sites, wear suitable clothing and be respectful of the Lao culture. Refrain from photographing monks around temples and during alms giving ceremonies.
Monks cannot touch women or take things from a woman's hands. Women should make way for monks on the street and give them room so they do not have to make contact with you. Women should also cover their shoulders, including when swimming in waterfalls.
The feet are considered the filthiest part of the human body - never place feet on chairs or tables, show the soles of your feet to anyone, or use your feet to point to something. It is polite to take your shoes off when entering a home or even a hostel.
The head is the opposite and considered the most sacred part of the human body - never touch a Lao person on the head.
Share This
You May Also Like To Read
Destinations
Keep updated by subscribing to our newsletter:
Did you find this helpful?
If you can't find the answer you are looking for Visit Our FAQ
If you still have unanswered questions in regards to this article, or anything else on this site, please Contact Us
Building and maintaining a website takes a lot of time, effort and money. If this website has helped or inspired you, a donation would be greatly appreciated. Thank you.