Go To Malaysia For...
Tropical Islands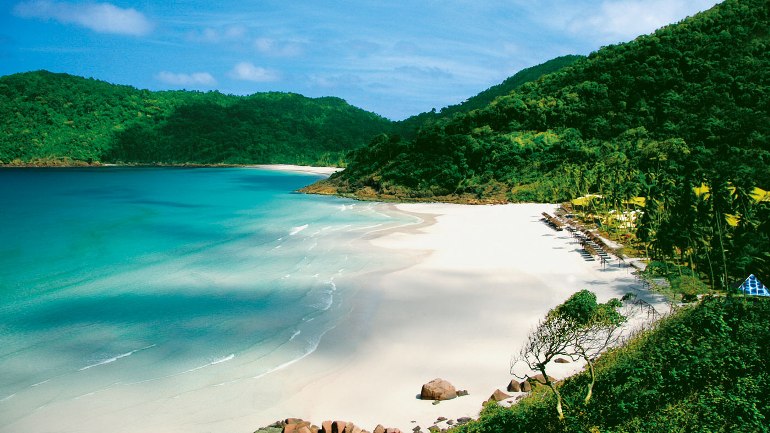 Pulau Redang
Malaysia has a bounty of idyllic tropical islands to visit, explore and unwind on.
Trekking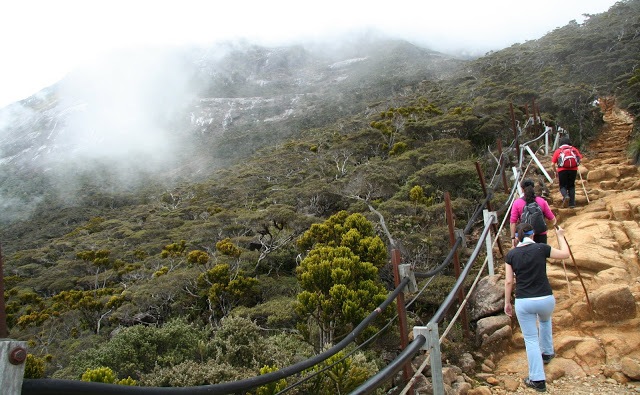 Trekking up Mt Kinabalu
Malaysia has many great treks throughout its jungles, plus Mount Kinabalu, one of the highest and most accessible mountains in the world.
Diversity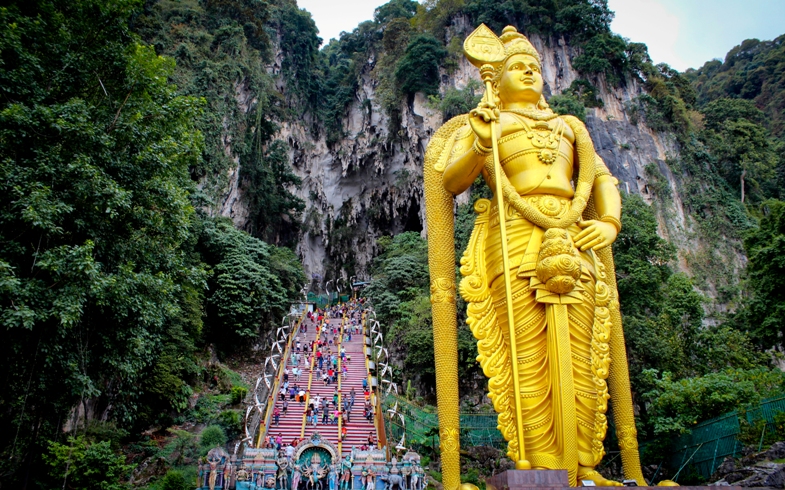 Statue of the Hindu god of war (Murugan), outside Batu Caves, Kuala Lumpur
With its plentiful mosques, churches and temples, along with its large Chinese and Indian communities, plus remnants from its British past, you soon realise there is a huge diversity in religion and culture in Malaysia. Travelling through Malaysia feels like you are visiting several countries in one go.
Street Food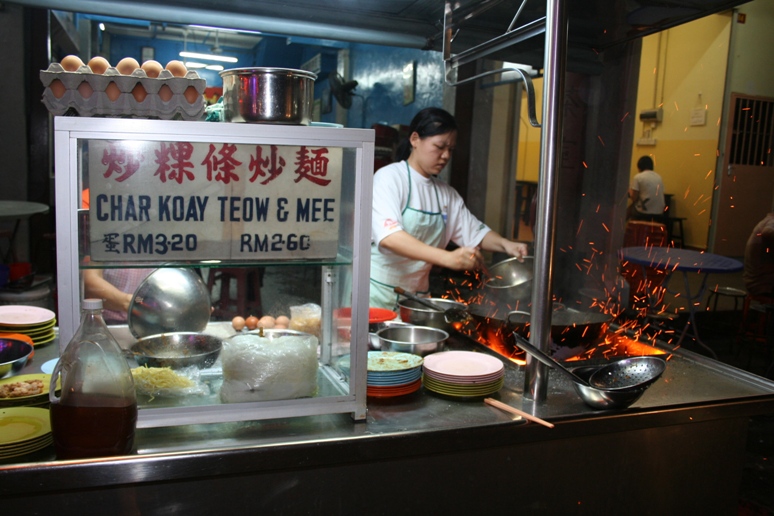 Stir-fried noodles, classic street food in the food capital of Malaysia, Penang.
With all that diversity Malaysia has a wide and rich cuisine, boasting some of the best street food in the world. Penang's New Lane is the best place to head.
Wildlife Volunteering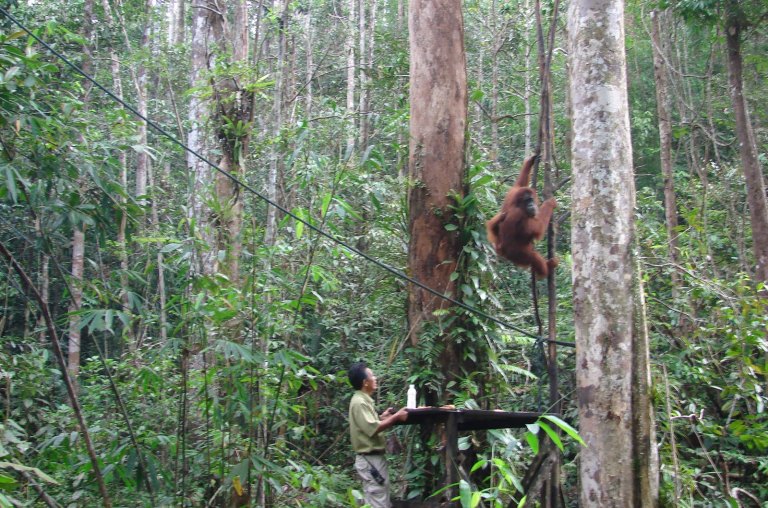 Volunteer at the Semmenggoh Orangutan Rehabilitation Center
With some of the most unique and endangered wildlife in the world there are plenty of chances to volunteer with animals. Opportunities include conserving Tigers, Pygmy Elephants & Sea Turtles, but of course Orangutans remain the most popular choice.
Consider Going Elsewhere If You...
Want To Party
Being a predominately Muslim country drinking alcohol is not common. In some places drinking will be frowned upon, and loutish behaviour whilst intoxicated will certainly cause offense and maybe even confrontation. The price of alcohol is also quite expensive in comparison to other items in the country. If you really want to party head across the border to Thailand.
Don't Like It Hot and Sticky
Lying very close to the equator makes Malaysia an absolute sweatbox. It is extremely hot and humid throughout the year, temperatures rarely dropping below 32°C in the day, and there is very little rest bite from the heat.
Top Places To Visit In Malaysia
Malaysia Need To Know
Basics
Language: Malay (English and Chinese widely spoken)

Currency: Malaysian Ringgit (MYR)

International Access Code: 00

Emergency Services Number: 999
Entry
Your passport should be valid for a minimum period of 6 months from the date of entry into Malaysia.
Citizens of most countries do not require a visa for entry.
Passport holders of countries such as the UK, USA, Australia, New Zealand, Canada and all EU member states, are granted permission to stay for 3 months on arrival.
The vast majority of other countries are given 1 month on a arrival.
Malaysia does not recognise dual nationality. Technically you can be refused entry if you are found to be holding two passports of different nationality.
Yellow fever vaccination is required for travellers arriving from countries with risk of yellow fever transmission.
Overstaying will cost you $10 or 30MYR fine per day. If you want to stay longer, do a simple visa run (exit and re-enter) at a neighbouring border.
For official visa information visit www.imi.gov.my
Getting Around
Flying is the only realistic option for travelling between peninsular Malaysia and Borneo. Budget airline AirAsia offers very affordable flights.
There are fantastic transport links in and around Kuala Lumpur (including to and from the airport), in the form of the LRT metro and KL monorail.
Rail transport elsewhere in the country is unlikely to be as fast or cheap as by bus. Buses are very popular, particularly with locals on weekends, so book in advance.
There have been a number of bus accidents in Malaysia, so make sure you choose a reputable operator for your journey. Two of the most realible are Transnasional and NICE/Plusliner.
Road conditions in Peninsular Malaysia are generally good, but less so in Bornean Malaysia If you wish to drive yourself by car, it is cheap and safer than most of the rest of Southeast Asia, but may prove difficult for those used to Western driving styles. Vehicles (particularly motorcycles) don't always stop at traffic lights or pedestrian crossings.
You can rent motorcycles in most places, Malaysian law states that helmets must be worn.
Ensure taxis are licensed before taking them, and always go by the meter. Always negotiate the price of a tuk-tuk before to avoid being ripped off.
Read more about Getting Around When You Get There here
Accommodation
Malaysia has a wide variety of hostels and you should never have any problem finding one.
The average price of a hostel is 21-50 MYR (£4-£10) a night.
The majority of hostels in Malaysia will provide linen and bathroom facilities. Usually there will be internet facilities as well as a common area and laundry services.
Hotels and guesthouses are cheap, especially if there is more than one of you. Prices start at around 100 MYR (£20) a night per room, but can be a lot higher.
Read more about Accommodation When You Get There here
Food And Health
Food hygiene and safety in Malaysia is not as bad as in other countries, but is not up to Western standards. Use your instincts; if the place looks dirty, don't eat there; if your food isn't piping hot, don't eat it.
Water is not safe to drink - always buy bottled or boil.
Health care in major towns and cities is generally good. However government and private hospitals charge for all services; private care is especially expensive, so make sure you have adequate travel health insurance and accessible funds to cover the cost of any medical treatment abroad and repatriation.
Dengue Fever and Malaria are present in Malaysia. Always contact your GP around 8 weeks before your trip to check whether you need any vaccinations or other preventive measures. Visit here for recommended vaccinations.
Weather & Time To Go
Situated near the equator, Malaysia has a tropical climate, and is hot, humid and wet throughout the year.
There are seasonal storms at different times of the year - the south-west monsoon occurs between April and October; and the north-east monsoon (which mainly affects Borneo) between October and February, and can occasionally result in heavy flooding. Storms tend to come and go quickly.
Humidity levels and temperatures are much lower in the highland areas.
Communications
Internet and wifi is widespread and accessible in most hostels and hotels. International calling cards are also cheaply available.
Dangers And Considerations
Homosexual acts are illegal in Malaysia.
Trafficking drugs incurs a mandatory death penalty, whilst possession will earn you a custodial sentence and possible whipping.
You could be asked to take a urine test on arrival in Malaysia if you are suspected of having used drugs before your visit. If the test is positive, you could be referred for rehabilitation treatment or deported.
Unlike in other South East Asian countries, most Malaysian police officers are not corrupt, so do not try to bribe them or you will probably end up in jail.
Credit card and ATM fraud is widespread in Malaysia, so take care when using machines and never let your cards out of your sight when paying for goods.
Be wary of pickpockets and bag snatchers. Items are often snatched by thieves on motorbikes when walking along busy streets or travelling in open transport like tuk tuks. If you travel by bus or train, make sure cash and valuables you have are kept securely, especially if you intend on sleeping.
Take care at night, drink spiking and scams involving gambling (particularly scratch and win cards) are very common in Malaysia.
Taxi drivers have been known to drop off passengers at the airport and then drive off with their luggage, while the passenger was getting a trolley. Unload all of your belongings from taxis as soon as you get out.
Police will use tear gas and water cannons to control public protests, so avoid any demonstrations.
In recent years there has been a threat to foreigners of kidnapping and criminality on all islands off the coast of eastern Sabah from Kudat to Tawau. Malaysian security forces have strengthened their presence in this area recently, but always check with an official travel advice bureau before visting.
Dangers constantly change. Always check with your foreign office (British Foreign Office webpage) or travel advice bureau for the latest information regarding your destinations safety.
Read more about Safety And Security here
Respecting Culture
Malaysia is a multicultural, but mostly Muslim country. You should respect local traditions, customs, laws and religions at all times and be aware of your actions to ensure that they don't offend, especially during the holy month of Ramadan or if you intend to visit religious areas.
You should also dress modestly, particularly in conservative and rural areas and when visiting places of worship.
If you are a Muslim you may be subject to local Shari'a law.
Public affection might invite unnecessary attention from the public, especially in more rural areas and should be avoided.
When entering a home or a place of worship, always take off your shoes.
Eating or giving a gift with your left hand; pointing with your forefinger or feet; and touching a person's head are all considered very rude in Malaysia.
Share This
You May Also Like To Read
Destinations
Keep updated by subscribing to our newsletter:
Did you find this helpful?
If you can't find the answer you are looking for Visit Our FAQ
If you still have unanswered questions in regards to this article, or anything else on this site, please Contact Us
Building and maintaining a website takes a lot of time, effort and money. If this website has helped or inspired you, a donation would be greatly appreciated. Thank you.