Go To Croatia For...
Islands
Visovac Monastery, Krka National Park.
Croatia has a total of 1,246 islands to explore. Many are dotted along the Adriatic coastline, and each offer a variety of different delights; from crystal clear waters and charming architecture to perfect beaches and lively party scenes.
Pretty Coastal Towns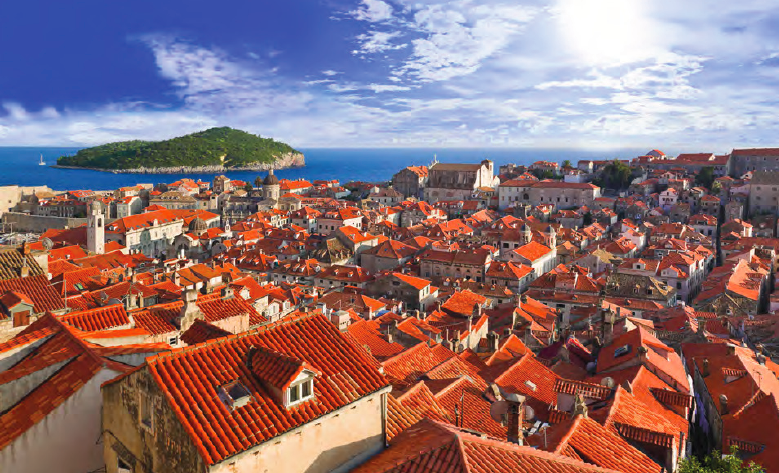 Famous roof tiles of Dubrovnik.
Croatian towns are some of the prettiest in the world. Many towns are fortified on small peninsulas, containing hundreds of orange tiled buildings, all clustered together, creating charismatic lanes and alleyways to wander through.
Waterfalls and National Parks
Plitvice Lakes National Park.
Croatia has some of Europe's best natural wonders, found in places such as Krka and Kornati National Parks. The crown jewel though is the 16 interlinked lakes within the large forest of Plitvice Lakes National Park.
Cheap Partying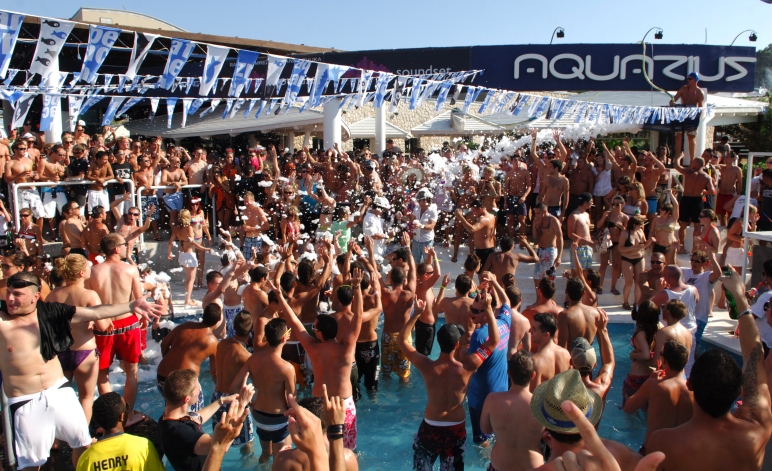 Aquarius Club, Zrće Beach - one of Croatia more expensive party spots, but still cheaper than Western Europe.
The price of alcohol is significantly cheaper in Croatia than in Western and Northern Europe. There are some fantastic islands along the coast to party and the capital, Zagreb, has a renowned night scene.
Consider Going Elsewhere For...
Ease of Travel
In comparison to the rest of Europe, Croatia can be more of a pain to get around. Visiting islands obviously requires a lot of boat travel. Roads are windy and due the shape of Croatia routes aren't very direct. However new trains are improving the speed of travel, from Zagreb to Split now takes 5.5 hours down from 9 hours in 2004.
Summer
Croatia in recent years has become an incredibly popular tourist destination and summer months are packed with families of European holiday makers and teenagers on party holidays. Being quite a small country doesn't help the situation, so quaint towns and beaches become very busy. It is also scorching hot in the summer reaching 39°C, so your best to visit Croatia in late spring or early autumn; you will still have great beach weather at that time, but fewer tourists.
Top Places To Visit In Croatia
Croatia Need To Know
Basics
International Access Code: 00

Emergency Services Number: 112
Entry
Croatia is an EU member state. Citizens of countries in the EU don't need a visa for trips of up to 90 days in any 6 month period.
A vast amount of passport holders from other countries can also enter Croatia visa-free for up to 90 days including; Australia, Canada, New Zealand and the United States. To check if your nationality requires a visa to enter Croatia visit your governement travel bureau or foreign office webpage.
You may be asked to produce evidence of the financial means necessary to cover your stay and return or onward trip.
Your passport should be valid for the proposed duration of your stay. No additional period of validity beyond this is required.
Getting Around
Croatia's rail network connects all major Croatian cities, except Dubrovnik. If you get the train to Split you can easily get a on bus to Dubrovnik. Rail is the cheapest means of getting from the coastal to inland regions, but trains may not be as frequent as buses nor as fast - Croatia has a widespread coach network that connects all parts of the country.
You are sure to travel by boat at some point, if you wish to visit any of the hundreds of beautiful coastal islands. Italian cities such as Venice are also well connected by boat from Croatia. Croatia Ferries is a great website for finding out route and timetable information.
Taxis in major towns and cities are reliable and easy to find. Always ask for an estimated price beforehand to avoid being overcharged.
Hitchhiking is generally acceptable and safe, but always take precaution.
Read more about Getting Around When You Get There
Accommodation
Croatia has a wide variety of hostels and you should never have any problem finding one.
The average price of a hostel is 60-115 HRK (€8-15) a night.
Private rooms in hostels, guesthouses and apartments are also quite cheap and more common than dorms. Average prices are between 150-450 HRK (€20-60) for a double or twin room, per night.
All hostels in Croatia will provide linen and bathroom facilities. Usually there will be cooking and internet facilities as well as common and laundry rooms.
Read more about Accommodation When You Get There and Living in Hostels
Food And Health
The standard of food safety and hygiene is good, and there are many places to eat out cheaply, if you do not wish to cook.
Water is completely safe to drink from all kitchen taps in Croatia, unless stated.
Medical facilities are good, but make sure you have adequate travel insurance and accessible funds to cover the cost of any medical treatment and repatriation.
EU and EEA citizens should get a free European Health Insurance Card (EHIC) before leaving home. The EHIC isn't a substitute for medical and travel insurance, but it entitles you to state provided medical treatment that may become necessary during your trip.
Other nationalities may also have reciprocal health care agreements, find out from your government travel bureau.
Always contact your GP around 8 weeks before your trip to check whether you need any vaccinations or other preventive measures. Visit here for Recommended Vaccinations and read here for more about Travelling Health In General
Weather & Time To Go
As mentioned above, Croatia is extremely busy in the middle of summer, so the best times to go are late spring and early autumn.
Croatian coastal areas have a pleasant Mediterranean climate; temperatures range from 6°C to 11°C in January and between 21°C and 39°C in August, with a mild to warm spring and autumn.
Inland areas are significantly colder in winter with substantial snowfall, but summer temperatures are similar to coastal regions, with the exception of mountainous regions.
Communications
Internet and wifi is widespread and accessible in most hostels. Local pay-as-you-go SIM cards for your mobile phone and international calling cards are cheaply available.
Dangers And Considerations
Crime levels in Croatia are low and violent crime is rare, but pickpockets are known to operate in busy tourist areas and valuables are often stolen at the beach having been left unattended.
Avoid gentlemen's/ strip clubs, there are often not legitimately run and overcharge guests. Victims can be threatened with violence if they refuse to pay.
Only exchange money at reliable places like banks and ATMs, as there are increasing numbers of forged Croatian Kuna banknotes
It is advisable to stick to the beaten tourist path in Croatia as land mines from the Yugoslav wars are still a danger in some isolated areas. If you are travelling in rural areas avoid leaving cultivated land or marked paths.
Forest fires are very common during Croatia's hot and dry summers. Take care when visiting forest areas. Make sure cigarette ends are properly extinguished, don't light barbecues and don't leave any rubbish, particularly empty bottles, behind.
Passports are the only officially recognised form of identification in Croatia, so it is advisable you carry yours at all times.
Dangers constantly change. Always check with your foreign office (British Foreign Office webpage) or travel advice bureau for the latest information regarding your destinations safety.
Read more about Safety And Security here
Respecting Culture
Croats are fiercely patriotic, as recently as 1991 Croatia gained independence which resulted in a 4 year war with Serbia. The war may still be a sensitive subject, so approach the topic with respect.
Share This
Related Advice
Popular Europe Guides
Destinations
Keep updated by subscribing to our newsletter:
Did you find this helpful?
If you can't find the answer you are looking for Visit Our FAQ
If you still have unanswered questions in regards to this article, or anything else on this site, please Contact Us
Building and maintaining a website takes a lot of time, effort and money. If this website has helped or inspired you, a donation would be greatly appreciated. Thank you.