Go To France For...
Paris
The Louvre.
Obviously Paris is the major draw when in France, in fact for many backpackers it is the only part of the country they visit. A beautiful and romantic city, overflowing with history, culture, art, sights, fashion and food.
Food
French Boulangerie.
France has a world renowned reputation for food, but you don't need to visit a Michelin star restaurant to experience it - just go to any patisserie, boulangerie or brasserie. If you wish, you can try some unusual foods too, such as frogs legs, snails and horse meat.
Skiing and Mountains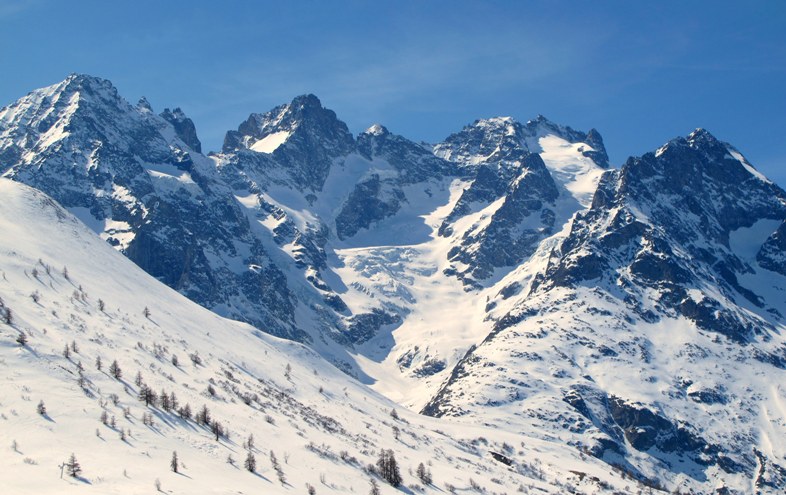 La Meije mountain.
The French Alps provide some of the most beautiful landscapes, challenging hikes and popular ski resorts in Europe.
Architecture
Chateau De Chambord.
Each French city has a different style of architecture, the highlights are Strasbourg, Lyon, Toulouse and Bordeaux. Elsewhere in the country there are a number of highly impressive chateaux's and palaces.
Consider Going Elsewhere If You...
Don't Like Being Pestered
France is one of the most popular tourist destinations in the world and therefore street sellers, touts and beggars thrive. When queuing for any major attraction in particular you will be hounded by people after your money.
Want Help
I don't want to generalise a whole nation, but the empathy towards tourists in France (mainly Paris) is the worst I have experienced. People seem offended if you try and ask for help in English and aren't sympathetic if you're trying your best to speak French. Attitudes in customer service and towards tourists tend to be ignorant and condescending.
Top Places To Visit In France
France Need To Know
Basics
International Access Code: 19

Emergency Services Number: 112
Entry
France is a member of the borderless Schengen Zone, meaning you can freely move to other member states without the need for multiple visa applications and passport controls.
Citizens of the EU, EEA and Switzerland don't need a visa to enter the Schengen Zone, and can generally stay for as long as they wish.
A vast amount of passport holders from other countries can also enter the Schengen Zone visa-free for up to 90 days including; Australia, Canada, New Zealand and the United States. Several nationalities are also permitted to work in France without the need to obtain a visa or any further authorisation for the period of their 90 day visa-free stay.
Citizens of visa-exempt nations need only produce a passport which is valid for the entirety of their stay, but other nationals require a Schengen visa and must have a passport which has at least 3 months' validity beyond their period of stay.
For official information visit diplomatie.gouv.fr or your home government travel bureau.
Getting Around
Trains are undoubtedly the best way of getting around France. Buses for inter city travel really shouldn't be considered an option, unless you find a great deal price wise.
The high-speed TGV is best for long journeys, but you will need to reserve your ticket in advance. Slower trains are usually cheaper and give you a chance to enjoy the beautiful French scenery.
You can view timetable information, as well as buy tickets and Europe wide rail passes at Rail Europe
Taxis in major towns and cities are reliable and easy to find. Always ask for an estimated price beforehand to avoid being overcharged.
Hitchhiking in France is generally good and safe.
Read more about Getting Around When You Get There
Accommodation
France has a wide variety of hostels and you should never have any problem finding one.
The average price of a hostel is €10-30 a night, obviously hostels in cities such as Paris will be at the top end of that bracket.
All hostels in France will provide linen, cooking and bathroom facilities. Usually there will be internet facilities as well as common and laundry rooms.
Camping is very common in France, but is pretty much only legal on recognised campgrounds. Most campsites have basic facilities such as bathroom blocks, but some may include kitchens, bars, restaurants, laundrettes and swimming pools.
Read more about Accommodation When You Get There and Living in Hostels
Food And Health
The standard of food safety and hygiene is good, and there are many places to eat out cheaply, if you do not wish to cook. The major supermarket in France is Carrefour.
Water is completely safe to drink from all kitchen taps in France, unless stated.
Medical facilities are good, but make sure you have adequate travel insurance and accessible funds to cover the cost of any medical treatment and repatriation.
EU and EEA citizens should get a free European Health Insurance Card (EHIC) before leaving home. The EHIC isn't a substitute for medical and travel insurance, but it entitles you to state provided medical treatment that may become necessary during your trip.
Other nationalities may also have reciprocal health care agreements, find out from your government travel bureau.
Always contact your GP around 8 weeks before your trip to check whether you need any vaccinations or other preventive measures. Visit here for Recommended Vaccinations and read here for more about Travelling Health In General
Weather & Time To Go
France generally has mild, seasonal weather throughout the year. The Mediterranean coastal areas enjoy the best weather with hot summers. The West Coast tends to experience much higher rainfall, particularly in winter. The mountainous regions (the Alps, Pyrenees and Auvergne) are obviously cooler and experience very cold winters with lots of snowfall.
Communications
Internet and wifi is widespread and accessible in most hostels. Local pay-as-you-go SIM cards for your mobile phone and international calling cards are cheaply available.
Dangers And Considerations
Thieves, pickpockets and scam artists commonly operate in tourist areas and on public transport networks and stations. Paris pickpockets often work in gangs, some distracting you while the others go into your bags, so be alert and try not to get distracted around tourist attractions and cash points.
Protests and strikes are common, you should avoid all public gatherings and mass demonstrations, as they can sometimes turn violent.
If in mountainous areas, particularly in winter, check weather forecasts and conditions and make sure you're properly equipped. Don't undertake any activity alone (including hiking).
Dangers constantly change. Always check with your foreign office (British Foreign Office webpage) or travel advice bureau for the latest information regarding your destinations safety.
Read more about Safety And Security here
Respecting Culture
Like in most cities, metros have their own codes of conduct. In France, let those exiting the train step off onto the platform before boarding; on escalators and moving walkways, walk on the left and stand on the right; and keep the noise down when on crowded trains to respect tired commuters.
Share This
Related Advice
Popular Europe Guides
Destinations
Keep updated by subscribing to our newsletter:
Did you find this helpful?
If you can't find the answer you are looking for Visit Our FAQ
If you still have unanswered questions in regards to this article, or anything else on this site, please Contact Us
Building and maintaining a website takes a lot of time, effort and money. If this website has helped or inspired you, a donation would be greatly appreciated. Thank you.