Go To The UK For...
Museums and History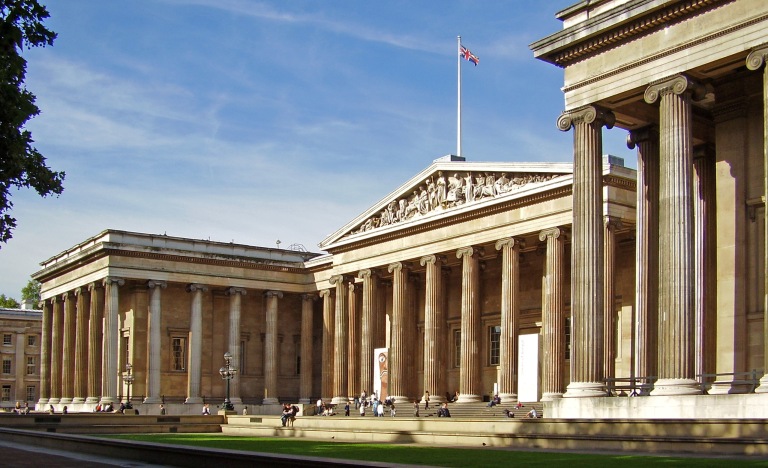 British Museum, London.
The UK is home to some the world's best museums, exhibiting ancient relics, art, natural history and more; plus the majority are free to enter. The UK's history is world renowned and there is plenty to see up and down the country, including castles, monuments and palaces.
Events
Pyramid Stage, Glastonbury Festival.
There is always something going on in the UK, home to the world best theatre, music festivals and football league. Countless events and exhibits are held across the UK every week, with plenty of exclusives and world premieres. Find UK Festival's Here
Architecture and University Towns
All Souls College, Oxford University.
The UK has many old, regal buildings with impressive architecture, nowhere more so than in University towns such as Oxford, Cambridge, Durham and Bath.
Pubs
One of many thousands of pubs called The White Lion.
The pub is a quintessential part of British culture. Pubs in Britain are full of character (and characters), that become packed on Friday and Saturday nights with people unwinding after a long weeks work.
Consider Going Elsewhere If You...
Want Good Weather
I don't think anyone has ever decided to visit the UK for its weather. It doesn't rain as frequently as people think, but it is very often depressingly overcast, you can go weeks without seeing any blue in the sky.
Want To Travel Cheaply
Being cut off from mainland Europe, it can be expensive to get to the UK in the first place. The UK is also one the most expensive places to travel by train, and unlike other Europe countries, where capital hubs such as Madrid and Rome are postioned centrally, London is situated in the corner, making for long, expensive journeys to the rest of the country.
Top Places To Visit In The UK
The UK Need To Know
Basics
Currency: Pound Sterling (GBP)

International Access Code: 00

Emergency Services Number: 999
Entry
The UK is a member of the European Union, but not a member of the Schengen Area, so separate immigration controls are required.
However EU, EEA and Swiss citizens do not require a visa and have the right to reside and work in the UK.
A vast amount of passport holders from other countries can also enter the UK visa-free for up to 6 months; including Australia, Canada, New Zealand and the United States. To check if your nationality requires a visa to enter the UK visit your governement travel bureau or gov.uk.
Citizens of Australia, Canada, Hong Kong (British National (Overseas) passport holders only), Japan, Monaco, New Zealand, South Korea and Taiwan can apply for a Tier 5 Youth Mobility Scheme visa (Working Holiday visa), allowing you to work in the UK for 2 years from the date of issue. Only a limited number of visas are issued for each nationality.
Getting Around
You may consider flying as an option, particularly between London and Scotland, the main domestic hubs are London, Belfast, Birmingham, Manchester, Glasgow and Edinburgh.
There is an extensive rail network in the UK, but no high speed trains. Train travel in the UK is considerably more expensive than the rest of Europe. You can view timetable information and buy tickets at National Rail. You can connect to the rest of Europe via the channel tunnel on the Eurostar train.
Coach travel tends to be slower than train travel, as well as less frequent, although it is more comfortable and much cheaper - promotional fares are as cheap as £1. The two main operators are National Express and Megabus.
Cities and large towns have excellent train, bus and metro networks.
Taxis in major towns and cities are reliable and easy to find.
Brits usually turn a blind eye to hitchhikers and it will be extremely difficult and frustrating, so for your time's sake it is best avoided. It is also illegal for pedestrians to be on motorways.
Read more about Getting Around When You Get There
Accommodation
The UK has a wide variety of hostels and you should never have any problem finding one.
The average price of a hostel is £10-25 a night.
YHA's are popular, providing special offers and memberships for multiple stays.
All hostels in the UK will provide linen, cooking and bathroom facilities. Usually there will be internet facilities as well as common and laundry rooms.
Read more about Accommodation When You Get There and Living in Hostels
Food And Health
The standard of food safety and hygiene is good, and there are places to eat out cheaply, if you do not wish to cook. Major supermarkets include; Tesco, Asda and Sainsbury's.
Water is completely safe to drink from all kitchen taps in the UK, unless stated.
Medical facilities are good, but make sure you have adequate travel insurance and accessible funds to cover the cost of any medical treatment and repatriation.
EU and EEA citizens should get a free European Health Insurance Card (EHIC) before leaving home. The EHIC isn't a substitute for medical and travel insurance, but it entitles you to state provided medical treatment that may become necessary during your trip.
Other nationalities may also have reciprocal health care agreements, find out from your government travel bureau.
Always contact your GP around 8 weeks before your trip to check whether you need any vaccinations or other preventive measures. Visit here for Recommended Vaccinations and read here for more about Travelling Health In General
Weather & Time To Go
The UK has warm, damp summers and mild winters. The weather can be very changeable and conditions are often windy and wet, so invest in an umbrella or raincoat. There is never a bad time to go, but don't expect to be sunbathing at anytime of the year, overcast is the most common forecast.
Communications
Internet and wifi is widespread and accessible in most hostels. Local pay-as-you-go SIM cards for your mobile phone and international calling cards are cheaply available.
Dangers And Considerations
The political situation in Northern Ireland has improved dramatically in recent years, however incidents of terrorist activity related to Northern Ireland continue to occur, especially at parades which occur in Northern Ireland during the months of April to August, but tourists are never a direct target.
Crime levels in the UK are low, but higher in major cities. Take sensible precautions to avoid mugging, bag snatching and pick pocketing.
British cities and towns can be rowdy in some parts at night on Fridays and Saturdays, try to avoid groups of drunk people on the street.
Be wary of wearing football shirts, particularly on matchdays (weekends). Generally it shouldn't be a problem and any confrontation will be just banter, but use common sense; for example don't wear a Liverpool shirt in Manchester.
Never hike in remote areas such as the Scottish Highlands alone, and always inform people of your plans.
Dangers constantly change. Always check with your foreign office or travel advice bureau for the latest information regarding your destinations safety.
Read more about Safety And Security here
Respecting Culture
British people don't always physically show anger or offence, so be conscious of you actions to ensure they don't offend, queue jumping is a classic example.
When someone is right behind you when you open the door, it is polite to hold the door for a second or two for other people. Be sure to say thanks if someone holds the door for you.
Don't refer to all locals as "English" this will probably offend Scottish, Welsh and Irish people.
Like in most cities, the London underground has its own codes of conduct: let those exiting the train step off onto the platform before boarding; on escalators and moving walkways, walk on the left and stand on the right; keep the noise down when on crowded trains to respect tired commuters; move down the car so not to crowd the doors; have your Oyster card or ticket ready for the top of the escalators so not to obstruct barriers; and give up your seat to the elderly and those less able to stand.
Share This
Related Advice
Popular Europe Guides
Destinations
Keep updated by subscribing to our newsletter:
Did you find this helpful?
If you can't find the answer you are looking for Visit Our FAQ
If you still have unanswered questions in regards to this article, or anything else on this site, please Contact Us
Building and maintaining a website takes a lot of time, effort and money. If this website has helped or inspired you, a donation would be greatly appreciated. Thank you.