Go To New Zealand For...
Scenery
Milford Sound
New Zealand is largely unspoilt. The many mountains and lakes provide spectacular scenery wherever you go.
Hiking
Roy's Peak Track
New Zealand offers some of the best walking tracks in the world - from half day strolls to 5 day tramps.
Marine Life
Swimming with Kaikoura's famous dusky dolphins
New Zealand's oceans are rich with life - why not try fishing, or swimming with dolphins. If you prefer to take a back seat go on a whale, seal and even penguin watching tour.
Geothermal Activity
Kerosene Creek - one of the many hot water creeks around Rotorua
Hot springs, geysers and volcanoes - New Zealand has them all in abundance.
Adrenaline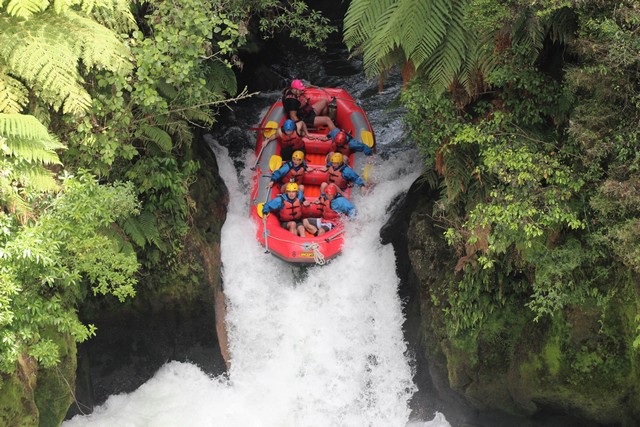 White Water Rafting on the Kaituna River
There are plenty of activities available in New Zealand to get your heart pumping.
Safety And Minimal Culture Shock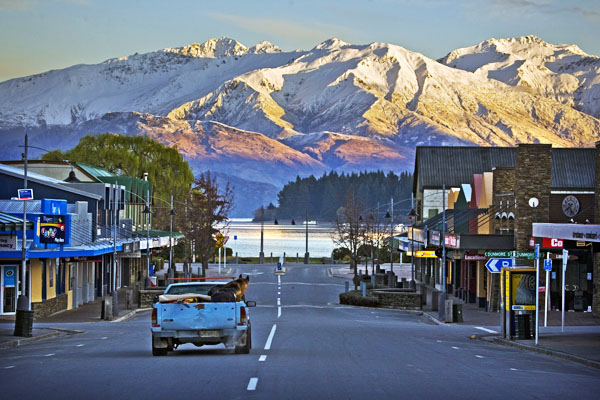 Wanaka
New Zealand is one of safest and friendliest countries in the world.
Consider Going Elsewhere If You...
Have A Small Budget
New Zealand is expensive to get to and can be to travel as well.
Like Things Lively
New Zealand is very quiet and peaceful which most people find nice. However you can often find hostels being virtually empty, particularly in off season. Cities and towns may seem quiet and devoid of people, after all New Zealand's total population is about half the size of London.
Top Places To Visit In New Zealand
Suggested Itineraries
New Zealand Need To Know
Basics
Currency: New Zealand Dollar

International Access Code: 00

Emergency Services Number: 111
Entry
Passport holders of most countries (including all EU countries) are allowed to stay in New Zealand without applying for a visa for 3 months, with the expectation of British Citizens who are permitted to stay for 6 months. Australian Residents can stay in New Zealand indefinitely. Check your passport stamp upon entry to confirm the date you are allowed to remain in New Zealand.
If entering as a visitor you must have a return ticket or be able to show a ticket to an onward destination, otherwise you will be refused entry.
Your passport should be valid for a minimum period of 1 month from the date of exit from New Zealand.
New Zealand has very strict bio-security regulations. It is illegal to import most foodstuffs; your bags will be x-rayed on entry.
New Zealand offers a work and holiday scheme for young people. For more information click here
For official visitor information go to immigration.govt.nz
Getting Around
Buses are popular for getting around and there are many to chose from. Intercity and The Naked Bus are the cheapest options, both offer discounted travel passes.
KiwiExperience and Stray are hop-on/hop-off backpacker bus companies that are much more expensive. They are good for people who are unorganised or have no idea where to visit. Most people on these buses are under 21 and are looking to party.
Train travel in New Zealand isn't the quickest method of transport, but it can be the most scenic. The Northern Explorer runs between Auckland and Wellington and The TranzAlpine (from Christchurch to Greymouth) is regarded as one of the world's great train journeys. Auckland and Wellington also have commuter rail services.
Domestic air travel can be cheaper than other methods of travel, particular between the North and South Island. Be aware that flights to and from Wellington Airport are prone to the effects of high wind - often flights can be cancelled or delayed for several hours and the approach can be very unnerving, even for frequent flyers.
Driving is on the left and is relatively safe and easy. Overseas licenses are valid for driving in New Zealand for up to a year, but if your licence is not in English an International Driving License may be required. To rent a car you must be over 20 years old - buying and then selling may be a cheaper option (just give yourself plenty of time to sell). Car insurance is not a legal requirement in New Zealand.
Ferries run between the North (Wellington) and South (Picton) Islands – the two ferry operators are Bluebridge and Interislander.
New Zealand is one of the easiest and safest countries in the world to hitchhike and so is a very common method of travel for backpackers. Beware though it is illegal to hitchhike on motorways.
Accommodation
New Zealand has a wide variety of hostels and you should never have any problem finding one.
The average price of a hostel is NZ$20-30 a night.
It is highly recommended you purchase a BBH card for discounted hostel rates - the majority of hostels in New Zealand are BBH members. The card can also be used to get deals and discounts on activities and transport.
YHA, Base and Nomads are other popular chains of hostels – all offer discounts for multiple stays. New Zealand has some of the best hostels in the world - most of the good ones tend to be independently run, as a lot more care and attention from the owner goes into them.
All hostels in New Zealand will provide linen, cooking and bathroom facilities. Usually there will be internet facilities as well as common and laundry rooms.
Read more about Living In Hostels here
Hotels are probably out of most backpackers price range in New Zealand – starting at about NZ$60 per night.
Camping is extremly popular in New Zealand because unless it is stated you are free to camp anywhere, so long as it is safe to do so. Private campgrounds with facilities are widespread (even some hostels have pitches for tents and campervans) usually around NZ$10-20 per night.
WWOOFing is very common - where you help out as volunteers on farms and receive food and accommodation in exchange for your time.
Couchsurfing is also popular in New Zealand.
Read more about When You Get There here
Food And Health
There are no more precautions for food safety in New Zealand than when in your home country.
Food is expensive, you should cook for yourself in hostels and rarely eat out. The three major supermarkets in New Zealand are New World, Pak'nSave and Countdown (Woolworths).
Water is completely safe to drink from all kitchen taps in New Zealand, unless stated.
Make sure you arrange comprehensive medical insurance before you travel.
Research has shown that asthma sufferers may be more at risk of an attack in New Zealand and sufferers should be suitably prepared.
Many countries have a reciprocal healthcare arrangement with New Zealand entitling visitors to subsidised health services for medically necessary treatment while visiting. Visit here for more details on the Reciprocal Health Care Agreement
Always contact your GP around 8 weeks before your trip to check whether you need any vaccinations or other preventive measures. Visit here for recommended vaccinations.
Weather & Time To Go
New Zealand has a temperate climate and there is never a bad time to go.
The South Island is slightly cooler than the North by a few degrees celsius. The average summer temperature is around 23°C, and winter is around 13°C. Obviously when at altitude the temperature will be much colder.
Summer is the best time to go for beaches and activities. Winter is best for scenery as most mountains aren't snow capped until then.
Communications
Internet and wifi is widespread and accessible in most hostels free of charge (usually very slow). Local pay-as-you-go SIM cards for your mobile phone and international calling cards are cheaply available.
Mobile phone networks generally works well in cities and large towns but coverage elsewhere can be very limited or non-existent.
Dangers And Considerations
Crime levels in New Zealand are generally low, however thefts from unattended vehicles, especially hire cars and camper vans in major tourist areas are common.
Sun burn is common in New Zealand (even when cloudy) due to ozone depletion, therefore unsure to wear sun cream everyday.
New Zealand is located in a seismic zone and is subject to earthquakes, there are also a number of active volcanoes. Follow the advice of the local authorities and emergency services in the event of a natural disaster.
Dangers constantly change. Always check with your foreign office (British Foreign Office webpage) or travel advice bureau for the latest information regarding your destinations safety.
Read more about Safety And Security here
Respecting Culture
Māoris are generally on good terms and are treated equalled with European settlers of New Zealand.
Some Australians joke about New Zealand being another "state" of Australia, but assuming New Zealand is like or has anything to do with Australia will not make you popular with New Zealanders.
Share This
You May Also Like To Read
Destinations
Keep updated by subscribing to our newsletter:
Did you find this helpful?
If you can't find the answer you are looking for Visit Our FAQ
If you still have unanswered questions in regards to this article, or anything else on this site, please Contact Us
Building and maintaining a website takes a lot of time, effort and money. If this website has helped or inspired you, a donation would be greatly appreciated. Thank you.