Go To Brazil For...
Lushious Rainforests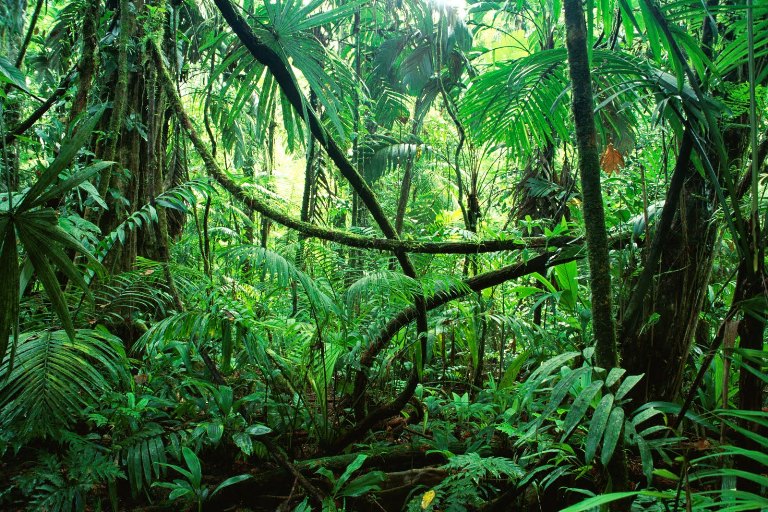 Thick Amazon Jungle.
The majority of the largest and most bio-diverse rainforest in the world, the Amazon, is located in Brazil. There are many other parts of the country covered in luscious jungle besides the Amazon, harbouring all sorts of wildlife and hidden oasis's.
Charismatic Cities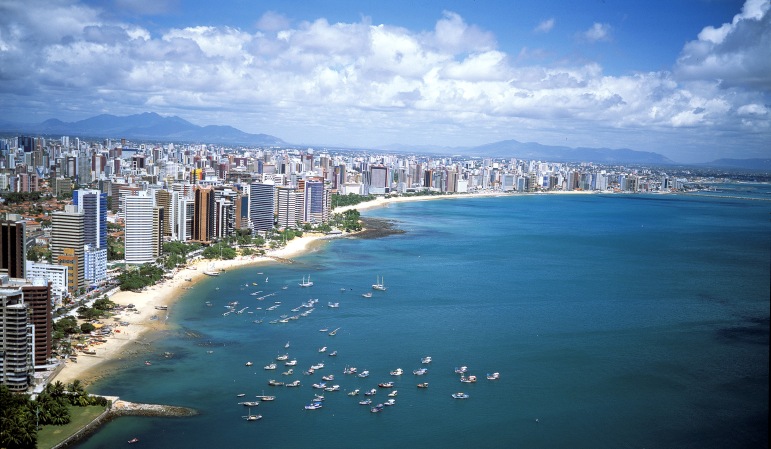 Fortaleza.
Brazil has many large and energetic cities, with the majority dotted along the coast. Each has their own vibe, feel and appeal, from iconic Rio and historic Salvador, to the concrete jungle of the densely populated Sao Paulo.
Parties, Festivals, Music and Dancing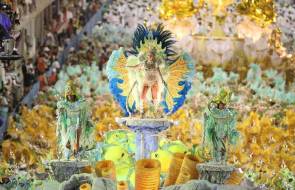 Rio Carnival.
Brazil is a vibrant country and you can always find a place to party, sing and dance. The annual carnivals, held during the Friday to the Tuesday before Ash Wednesday, in Rio de Janeiro, Salvador, Recife and Olinda are major attractions.
Beaches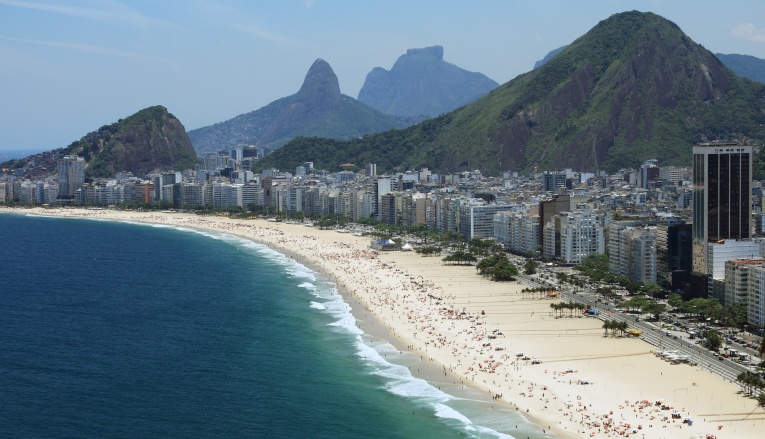 Brazil's most famous beach, The Copacabana, Rio.
Brazil has some of the best beaches in the world along it vast coastline. There are many city beaches, but the best ones are found on Brazil's many islands such as Ilha Grande, Florianopolis and Fernando de Noronha.
Consider Going Elsewhere If You...
Are Concerned About Safety and Security
Crime levels in Brazil are high, more so than in other South American countries (such as Argentina, Chile and Uruguay), and considerably more so than destinations in Europe and Asia. Although mainly used as a scare tactic, crimes often involve firearms or other weapons. See more in the Dangers and Considerations section.
Hate Long Journeys
Brazil is the fifth largest country in the world, so unless you have the budget to spend on numerous flights, you going to have many long bus journeys.
Need A Tourist Infrastructure
If you require tourist information centres and English menus to feel comfortable, you may be best off visiting another destinations.
Top Places To Visit In Brazil
Brazil Need To Know
Basics
Currency: Brazilian Real (BRL)

International Access Code: 00

Emergency Services Number: Police: 190 Ambulance: 192 Fire: 193

Time Difference: From -2 to -5 GMT
Entry
Brazil has a reciprocal visa policy with all countries, meaning nations such as Australia, Canada and The US require a visa for entry, and prices of visas differ.
Any nations that allow Brazilians visa free entry, generally do not need a visa for stays of up to 90 days, such as the UK, New Zealand and most EU nations. This is subject to change when other countries change their visa policies.
Your passport should be valid for a minimum period of 6 months from the date of entry into Brazil.
For official information visit your home government travel bureau.
Getting Around
Flying is certain a likely choice of travel as the country is so large and the ground transport infrastructure isn't brilliant. If you are going to be flying a lot, look in to the air passes, offered by TAM and Gol.
Allow plenty of time to arrive at the airport for your flight. Traffic in the main cities, especially São Paulo and Rio, can be very heavy, particularly during rush hour.
Brazil has a good, convenient long distance bus network, that can be cheap or comfortable depending on your budget.
There are decent regional buses and train lines, but not a national railway network.
Ensure taxis are licensed before taking them, and always go by the meter. Always ask for an estimated price beforehand to avoid being overcharged.
Read more about Getting Around When You Get There
Accommodation
Brazil has a wide variety of hostels and you should never have any problem finding one.
The average price of a hostel is 25-60 BRL (£6-15) a night. Hotels can also be relatively cheap, but vary in quality.
All hostels in Brazil will provide linen and bathroom facilities. Usually there will be cooking and internet facilities as well as common and laundry rooms.
Read more about Accommodation When You Get There and Living in Hostels
Food And Health
Food hygiene and safety in Brazil is not as bad as in some other countries, but is not up to Western standards; food from street and beach vendors have a particuarly bad reputation. Use your instincts; if the place looks dirty, don't eat there; if your food isn't piping hot, don't eat it.
Water is generally not safe to drink, so it is best to buy bottled or boil.
Foreign nationals are entitled to emergency medical treatment in Brazilian public hospitals. Public hospitals in Brazil, especially in major cities, tend to be crowded. Private hospitals will not accept you unless you can present evidence of sufficient funds or insurance.
Make sure you have adequate travel health insurance and accessible funds to cover the cost of any medical treatment abroad and repatriation.
Dengue fever is common in Brazil. Always contact your GP around 8 weeks before your trip to check whether you need any vaccinations or other preventive measures. Visit here for Recommended Vaccinations and read here for more about Travelling Health In General
Weather & Time To Go
Brazil is a huge country with various different climate zones, but is generally hot, wet and humid. The North, near the equator is tropical with wet and a dry seasons; and from about São Paulo down, there are traditional seasons of spring, summer, autumn and winter.
The rainy season runs from November until March in the south and south east, and from April until July in the north east of the country.
Communications
Internet and wifi is widespread, the obvious expection being when in the rainforest, and is accessible in most hostels and hotels. International calling cards are also cheaply available.
Dangers And Considerations
Crime levels are high. Violence and crime can occur anywhere and often involves firearms or other weapons. If you are ever threaten with a weapon always give up your belongings, it really isn't worth it, especially as you should be fully insured. You should be vigilant, particularly before and during the festive and carnival periods.
Shanty-towns (favelas) are unpredictably dangerous areas, even if you visit with well organised tours.
Petty crime is common on public transport.
Read here for general tips on How To Avoid Getting Robbed.
Rape and other sexual offences against tourists are rare, but there have been attacks against both men and women. Buy your own drinks and keep them within sight at all times.
Bank and credit card fraud is common, including card cloning from ATMs. Keep sight of your card at all times and do not use an ATM if you notice anything suspicious.
Protests take place regularly, often without warning, take extra care and avoid all large gatherings and demonstrations.
Brazil is a very diverse nation and racism is taken very seriously. Even light-hearted remarks in known company are not tolerated; racism is a crime in Brazil for which bail is not available, with a 6 month to 8 year imprisonment.
Football is like a religion in Brazil, and there are huge rivalries that sometimes turn violent. Be wary of wearing certain shirts in certain areas and never compare the Brazilian national team with, or praise, the Argentine team.
Strong currents and sharks can be a danger off some beaches. Take local advice before swimming.
You should carry some form of photo ID with you at all times.
Dangers constantly change. Always check with your foreign office (British Foreign Office webpage) or travel advice bureau for the latest information regarding your destinations safety.
Read more about Safety And Security here
Respecting Culture
Brazilians may be offended if you try to speak to them in Spanish – remember the national language is Portuguese. If you can't speak Portuguese and they don't speak English, ask if they speak Spanish rather than assuming.
While talking, Brazilians may stand closer to each other, and you, than in other cultures. They also tend to touch each other more, females should be particularly aware of this for when in bars and clubs.
When two women, or opposite sexes first meet, it is not uncommon to kiss. Two men will never kiss, and just shake hands. Depending on where you are in the country it could be 1, 2 or 3 kisses, but you should not actually kiss the cheeks, only touch cheeks whilst make a kissing sound.
Share This
You May Also Like To Read
Destinations
Keep updated by subscribing to our newsletter:
Did you find this helpful?
If you can't find the answer you are looking for Visit Our FAQ
If you still have unanswered questions in regards to this article, or anything else on this site, please Contact Us
Building and maintaining a website takes a lot of time, effort and money. If this website has helped or inspired you, a donation would be greatly appreciated. Thank you.