When people (who have never stayed in them before) think of hostels, they conjure up words like "horrible", "grim" and "scary".
However:
The best way to describe a hostel in one word is "basic".
That certainly isn't a word to fear.
So, What Is It Like Living In Hostels?
Think of hostels being like a no frills airline and imagine a 5 star hotel being Emirates. There is a massive difference in price and experience, but at the end of the day they both provide the same outcome you are looking for - flying you to your destination in this case.
You may not get a mint on your pillow and daily maid service with hostels, but you get the same outcome you are looking for. A place to sleep, a roof over your head, and somewhere to refresh yourself.
Yes, some could definitely do with a refurbishment, but doing that would put their prices up.
You should see hostels as a minor inconvenience, that allow you to travel the world cheaply for long periods of time - you wouldn't get very far for your money staying in hotels. They're a fantastic place to meet people too.
If you have been to university, you really shouldn't fear hostels in terms of cleanliness - most hostels have very good levels of hygiene and cleanliness, particular compared to your uni shared house.
Sleeping is really only an occasional issue. Most people want to go to bed early as they are up early doing something the next day. The majority of people also have respect for others and don't want to be "that guy" who wakes everyone up. There are unwritten rules in regards to sleeping; quiet if someone is asleep after 10pm and lights out by 11, but majority will always rule. Wearing earplugs and avoiding party hostels and large dorms will improve your night's sleep drastically.
The only real problem in reality is, lack of privacy and personal space, but you can find this outside of hostels, i.e. by going to a park or beach.
If you're really struggling take a break, everyone has done it; get a private room for a few nights - in developing countries this won't damage your budget much at all.
How To Choose A Good Hostel
There are many things to consider when choosing a hostel. Again with experience you will know exactly what you like - two of my favourite, "bonus" things I look out for are free breakfast and free wifi.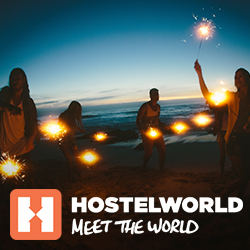 Obviously money is the biggest factor - if your budget is very tight you don't have much choice. Like everything, you get what you pay for. Personally, I would sooner pay a little bit extra to stay in a hostel with excellent reviews. Similarly, I will always pay extra for a 4 bed dorm over a 10 bed dorm, as for me, you can't put a price on a good night sleep, but each to their own.
Your sleeping habits are also quiet relevant when choosing. My brother could sleep through an earthquake, so if you are like him there really is no reason not to stay in a cheaper 10 bed dorm. Likewise if you are in a place to party, you may go for a larger room because you don't care where you sleep and would rather have extra beer money.
Always read reviews even if you don't care about the quality. It may be the cheapest hostel, but the location may meaning having to pay for transport every time you want to adventure out - things like location will be mentioned in reviews.
Hostelworld and HostelBookers are two sites where you can compare and book hostel accommodation.
A good idea is to write down a list of your priorities. Yours may differ to mine, but I have listed the main things I look out for in order (if 1,2, 4 and 5 aren't all good, I don't stay):
My Accommodation Priorities
1. Reviews or First Impression when arriving
3. Recommendations from people I have met
Hostel Survival Tips
Here are some tips to make living in hostels easier...
- easier to get up in the middle of the night and a place to sit whilst going through your bag.
Be considerate and friendly
- if you are, people will be back to you. If you aren't, people are more inclined to turn the light on when you are asleep or take over your personal space with their belongings.
Don't put your stuff (towels especially) on other peoples beds
- another way to not make friends. - (if provided) for anything that is valuable. I have never have anything stolen in a hostel, but read here if you are concerned about Protecting Your Belongings In Hostels. - you can always find the party. - even if everyone is in bed by 10pm, there is always a snorer! - they will be no space or equipment.
Talk to people and make friends
- you will be much happier and accepting of hostels.
Share This
You May Also Like To Read
Keep updated by subscribing to our newsletter:
Did you find this helpful?
If you can't find the answer you are looking for Visit Our FAQ
If you still have unanswered questions in regards to this article, or anything else on this site, please Contact Us
Building and maintaining a website takes a lot of time, effort and money. If this website has helped or inspired you, a donation would be greatly appreciated. Thank you.