1. Australia
From world heritage mountain ranges, coral reefs, deserts and rainforests to first-rate cities and pristine beaches - Australia is so diverse you really don't need to visit anywhere else - no wonder it is the most popular backpacker destination in the world!
The largest country in the region by far - if you heading to this part of the world you be silly not to visit! Read our Guide To Backpacking Australia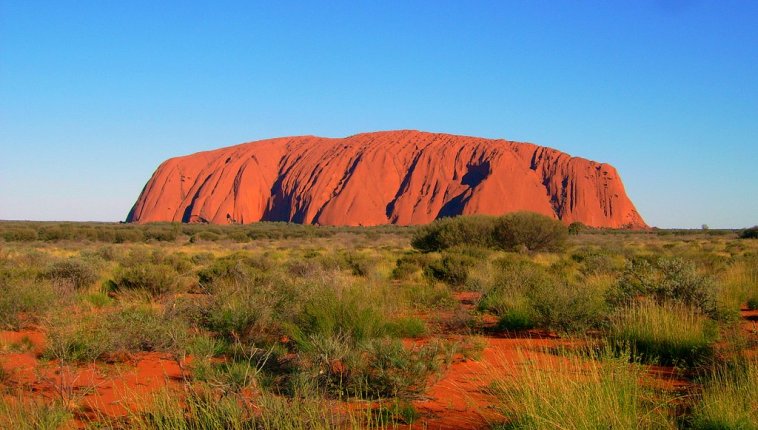 Uluru (Ayers Rock)
2. New Zealand
The newest and one of the most scenic countries in the world. Larger than the United Kingdom, but with a population of just over 4.5 million it's mostly untouched. From beautiful beaches and active volcanoes in the North to towering mountains and crystal clear lakes in the South, New Zealand is a must visit for nature lovers. Read our Guide To Backpacking New Zealand
Mt Cook and Tasman from Lake Matheson
3. Island Life
Visit any of the many islands in the Pacific and live on island time. You will have never felt so relaxed and laid back in your life.
With the fine weather constant, sea warm; the locals welcoming and the produce fresh; you will never want to leave.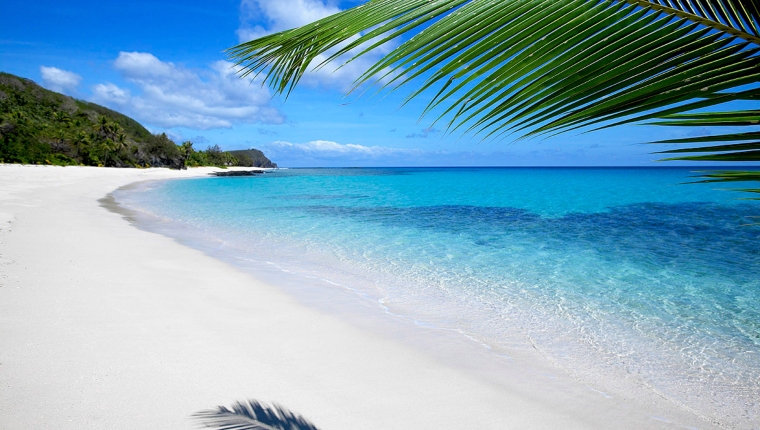 Fijian Beach
4. Coral Reefs
This region boasts some of the best and richest coral reefs in the world, including the largest and most famous, the Great Barrier Reef.
The Pacific Ocean is littered with reef; a visit to any island country and you will be sure to find some great snorkelling and dive spots.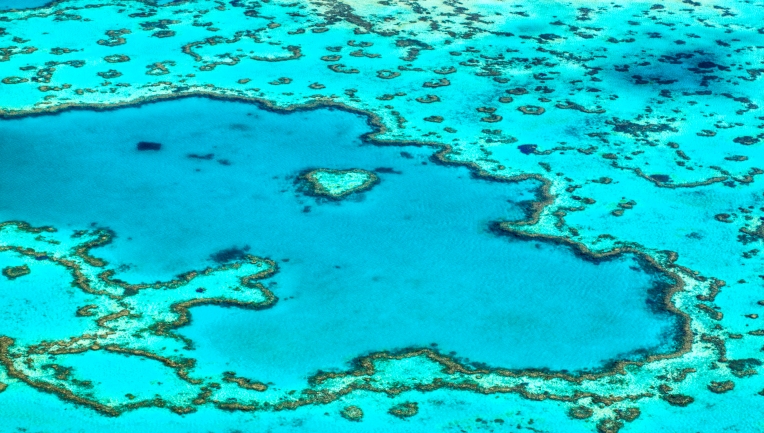 Hardy Reef, Great Barrier Reef, Australia
5. Wilderness
A visit to this part of the world makes you imagine what life was like before humans took over. Some areas are so vast, with not a single element of human interference in every direction you look. Great then for bush walking (Australia)/ tramping (New Zealand) and makes it the best region in the world for star gazing.
The wild and nothingness really is breathtaking and makes you realise how insignificant and fragile you are.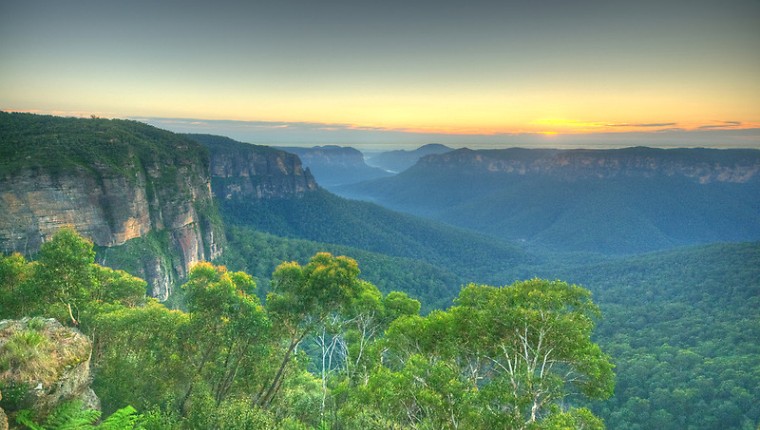 Blue Mountains, New South Wales, Australia
6. Swimming
Continuing with the untouched theme, the waters here are the clearest, cleanest and freshest in the world. You just can't help yourself from jumping in. There are so many places to go for a swim as well - not just the sea and the reef, but rainforest waterfalls, outback oasis's, volcanic hot springs and more - you find yourself constantly in the water.
If you are heading to this region and can't swim, learn! You will be missing out otherwise.
Read My Top Swimming Experiences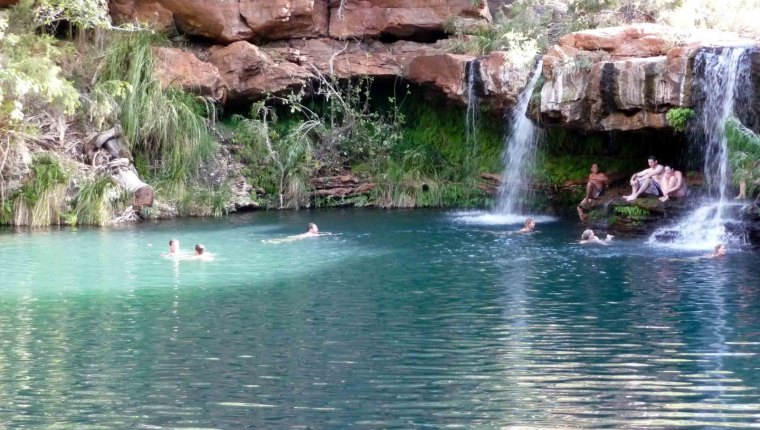 Fern Pool, Karijini National Park, Western Australia
7. Wildlife
With the exception of maybe Africa there is a no better place for wildlife and despite what you might hear, most of it isn't trying to kill you.
Most of the wildlife is unique; wombats, kangaroos, wallabies, koalas, emus, you won't find anywhere else and all are easy to find. New Zealand has the most endemic species of birds anywhere in the world.
Get off shore and you will see thousands of marine fish species and mammals.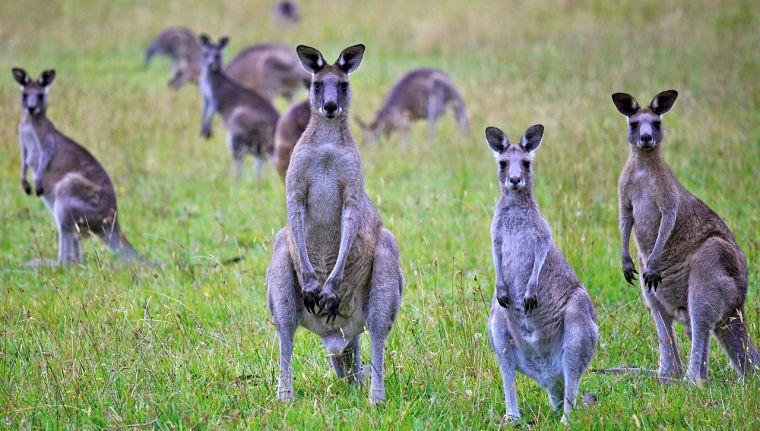 Kangaroos are a common sight in Australia - go to an open plain at dusk and there is a good chance you will see some.
8. Liveable Cities
Adelaide, Auckland, Brisbane, Melbourne, Sydney and Perth, each with a beach on their doorstep, are all frequently named in the top 10 most liveable cities in the world.
Take a visit to any of them and you will see why. Why not even live in one for a bit, by applying for a working holiday visa. Read about the Australian Working Holiday Visa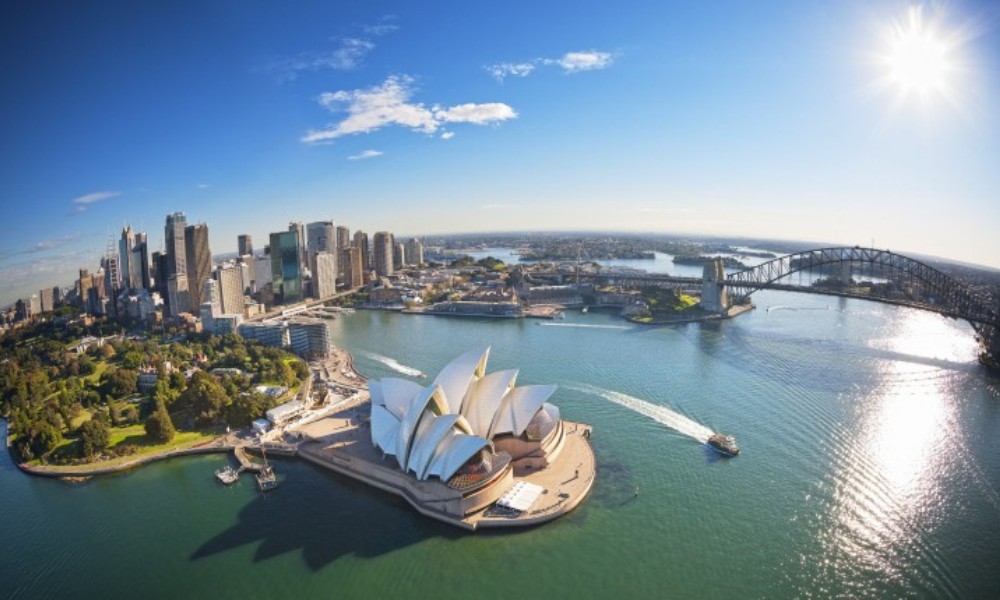 Sydney, Australia
9. Beach Life
Seen as most people live on the coast and the weather is so beautiful, the beach life here is pretty special.
There is a different kind of beach for everyone. With the hippie vibe at Byron Bay, the beautiful person showground at Bondi, the aptly named Surfer Paradise on the Gold Coast, plus the countless secret and deserted beaches across the continent - you are sure to find one that fits you. See here for the Best Beaches In Australia.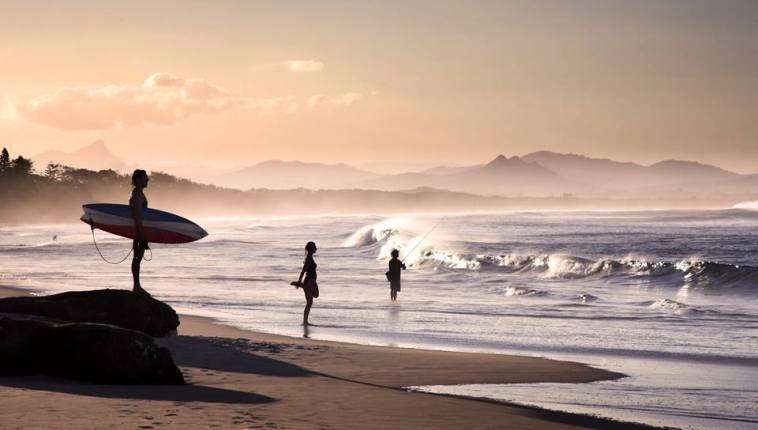 Main Beach, Byron Bay, Australia
10. Adrenaline Activities
There are so many activities here to get your adrenaline flowing and all are licensed unlike some other destinations in the world.
Bungee Jumping, Skydiving, Jet Boating, Surfing, White Water Rafting, Scuba Diving, Zip Lining, Mountain Biking, Shark Cage Diving to name but a few.
The main two hotspots are Queenstown in New Zealand and Cairns in Australia.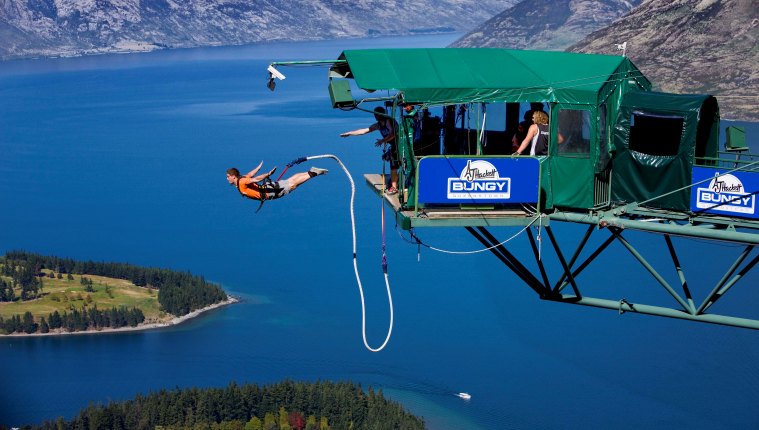 Bungy Jumping, Queenstown, New Zealand
Share This
You May Also Like To Read
Country Guides
Destinations
Keep updated by subscribing to our newsletter:
Did you find this helpful?
If you can't find the answer you are looking for Visit Our FAQ
If you still have unanswered questions in regards to this article, or anything else on this site, please Contact Us
Building and maintaining a website takes a lot of time, effort and money. If this website has helped or inspired you, a donation would be greatly appreciated. Thank you.