When Booking
Take Advantage Of Price Comparison Sites
Sites such as Skyscanner are great tools for finding the cheapest deal out there. However they shouldn't only be used to measure price, remember the cheapest flight isn't always the best flight. Use the comparison sites to check out the flight length, date, amount of changes, the aeroplane, airline, airports and the times of departure and arrival, to help you ascertain the best overall journey.
Benefit From Flying At The Right Time
Midweek flights are the cheapest and least busy, with Tuesday being the supposed best day. It is also cheaper to book midweek. Ideally get the first flight of the morning, as the plane will already be there waiting to go and not have been caught up in delays earlier in the day. If possible as well, I prefer to get a flight that arrives in the late evening, so that I can go to bed soon after arrival, rather than struggling with jet lag when arriving in the day, or not being able to find a taxi after landing late at night.
Reap The Rewards Of Choosing Your Seat In Advance
It's usually free on long haul flights and can be easily done online! There are so many benefits to choosing your seat in advance, and not just to avoid the middle seat. Here are some tips on what seat to choose:
If you plan on sleeping get a window seat to avoid being disturbed; if you get up a lot or want to stretch your legs out go for an aisle seat. If you are tall, big or claustrophobic maybe pay extra for a emergency exit seat.
Avoid seats near toilets; they can smell bad and you will often have people queuing for them by your seat.
Baby bassinets are usually attached to wall partitions between classes and toilets, so don't sit near them either.
Try to get a seat as close to the front door as possible for a quicker exit – every row counts (see the last tip of this article).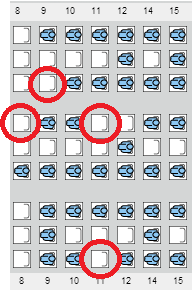 If travelling alone look for a row where only one seat has been taken, over an entirely empty row (see picture).
If you choose an empty row it is more than likely a couple will book the two seats next to you, but by choosing a row with one seat already taken, the odds of someone choosing the middle seat between you are slim.
So unless your flight is fully booked there is a good chance you have a spare seat next to you and you will have a lot more personal space and legroom during the flight.
Save Money Ahead By Joining Frequent Flyer Programs
You are likely to be flying a great deal in the coming months so join the free frequent flyer programs when booking. Even if it doesn't save you money on this backpacking trip, it may well do further down the line.
Save Money & Time Ahead By Planning Your Transfer
A common mistake, people book their flight, but forget how they are going to get from the airport to their accommodation. Look for the cheapest or quickest route. Remember your phone might not work when you arrive into a new country, so you may want to book onward transportation in advance. Read more about Onward Transport.
On Flight Day
Label Your Luggage
This one isn't exactly a top secret tip, more of a reminder. Make sure you have a luggage tag with your name, home address and email address on all your luggage in case they are lost. Put some sort of tape, stitching, ribbon or marking on your bag to make it easily recognizable, and so that others don't take it by mistake.
Dress Right
Wear comfortable clothing for your flight and dress for your destinations climate. Less is best at the security gate, as you don't need to take as many items off - you may want to avoid wearing clothing or accessories with metal parts to prevent the buzzer going off.
Be Prepared And Avoid Stress
Preparedness is the most integral part of air travel, so:
• Know how to get to the airport & arrive with ample time to spare (check time with airline).
• Ensure you have your documents with you before leaving for the airport.
• Know the weight of your bag and the airline limits.
• Know what you can and cannot take in your hand luggage.
• Fill out your immigration card (if required) before you reach the immigration desk.
• Take items of clothing and jewellery off before reaching the security scanners.
• Don't delay the plane by being late to the gate or failing to take your seat once onboard.
• Ensure you have ways of being suitable entertained for your entire flight.
• Ensure any essential items (inhalers, medication, earphones) are in your hand luggage.
Be Thrifty By Taking An Empty Bottle
With the restrictions on taking liquids on planes these days, this is one of the most useful pieces of advice on this list. Keeping hydrated is one of the best ways to avoid jet lag, and prices of drinks at the airport and onboard are extortionate due to the liquid restrictions. By taking an empty bottle you can fill it up once through security at the many water fountains found within airport terminals.
Reduce Terminal Boredom - Check For Free WiFi
It sucks when you have been bored at an airport for 2 hours, then when turning off your phone before boarding realising there was free wifi all along. Most airports have free WiFi for a couple of hours, you may just have to provide your email address or obtain a code, so check or ask at an information desk.
Be Smart And Prevent Jet Lag
Jet lag can be very unpleasant, frustrating and ruin the first few of days of your trip, so read our tips on Avoiding Jet Lag.
Be Nice And Good Will Come Your Way
Sometimes in life it is better to be firm and direct, and other times it is better to be nice and friendly; with air travel it is definitely the latter. Be polite at the check in desk, and you may get an upgrade; be friendly onboard, an you will recieve much better service; be helpful at immigration, and they will ask you fewer questions.
I witnessed a man that was wildly incensed at security, claiming he was being victimised and discriminated against, despite myself standing right next to him, also getting my bag fully searched. I was friendly and understanding and left pretty quickly, he on the other hand didn't, as a few armed policemen came to help with his security screening.
Move Or Ask For Another Seat
Once on board see if there are any empty seats, often you can get whole rows to yourself on long haul flights. If you are not happy with your seat for whatever reason ask to move, there will nearly always be another seat available.
Rush When You Land - It Can Make A Huge Difference
Some people may disagree with this bit of advice, but from experience I can tell you it works wonders. I imagine you have heard someone after landing saying "there's no need to rush, the doors haven't even opened yet" (usually your mum when you were a kid), however rushing can potentially save you a heap of time, I now make a habit of trying to be the first to immigration.
At the immigration queue is where you will save the most time, particularly in developed countries when entry is much more scrutinised. There are hundreds of people on each flight and each person takes at least 2 minutes to go through immigration, so beating 10 people to the line could potentially save you 20 minutes of waiting.
The other benefit of moving quickly is when it comes to your onward transportation. Being off the plane and through immigration fast means you are one of the first to the taxi rank, or can catch the earlier shuttle bus. I've had an experience where I have just missed a bus and then had to wait an hour for another one – being a couple minutes quicker off the plane and I would have made it.
So before the seatbelt signs go on for landing, get all your belongings ready, then as soon as they go off after landing, stand up and try to make your way a bit further up the aisle (as politely as possible of course). When you get out speed walk to immigration, you can overtake a lot of people as it is usually quite some distance away from the gate. Getting through airports quickly is another great example of the benefits of solo travel.
You May Also Like To Read
Keep updated by subscribing to our newsletter:
Did you find this helpful?
If you can't find the answer you are looking for Visit Our FAQ
If you still have unanswered questions in regards to this article, or anything else on this site, please Contact Us
Building and maintaining a website takes a lot of time, effort and money. If this website has helped or inspired you, a donation would be greatly appreciated. Thank you.