Go To India For...
Spiritual Journeys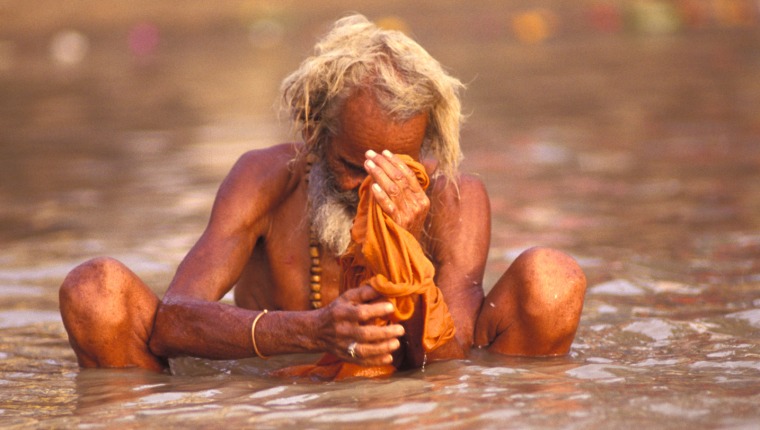 A man bathing and washing away his sins in the Ganges River.
Many people come to India to find themselves and refresh their soul. You may want to learn yoga, meditate, or spend time at an ashram. Extraordinary and elaborate religious festivals also occur on a regular basis.
Sensory Adventure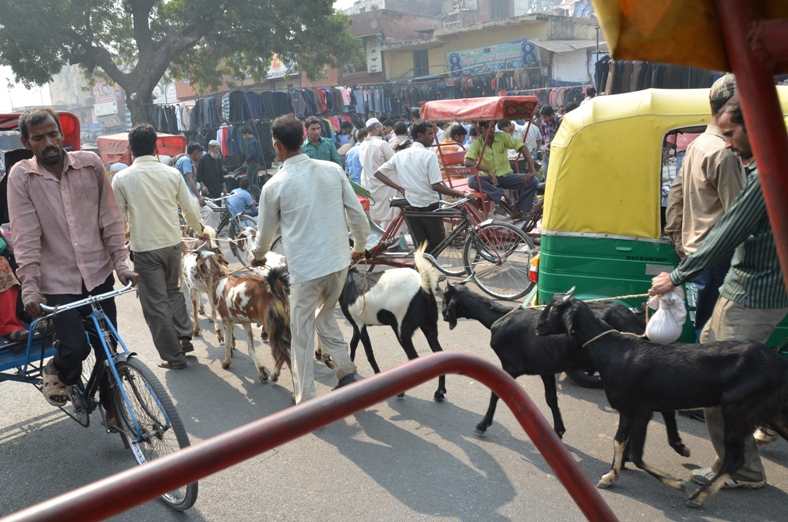 The hustle and bustle of Delhi
Mysterious aromas, bizarre spectacles, mouth-watering delicacies, deafening commotion - your senses are really pushed to the max in India.
Architecture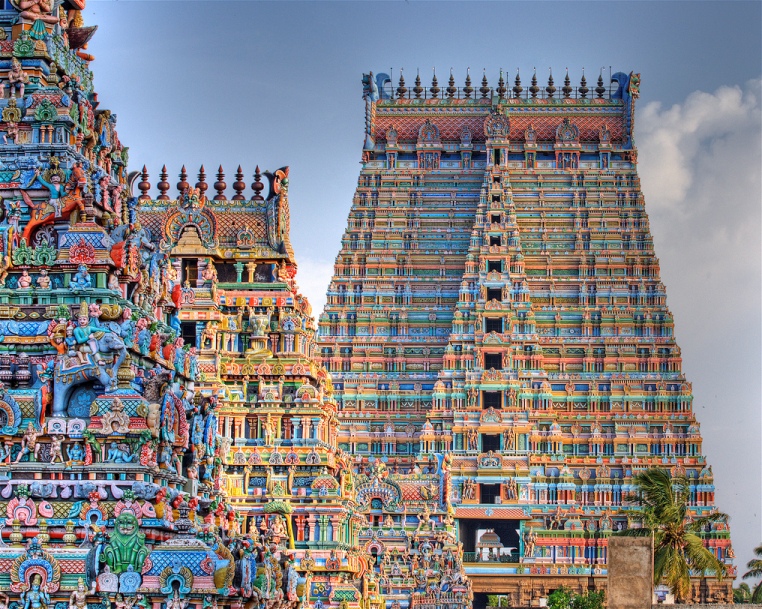 Sri Ranganathaswamy Temple, Srirangam
India's architecture isn't limited to the Taj Mahal, impressive architecture can be found wherever you go. There are both ancient and modern wonders, largely inspired by India's many religions and great history.
Great Value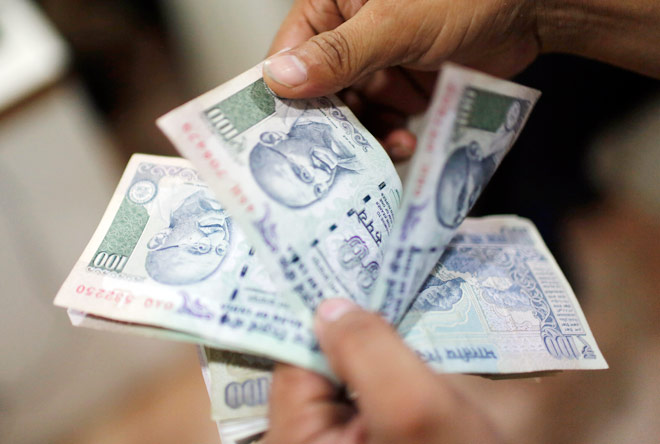 Indian Rupee
Your money will go incredibly far in India, especially if you don't mind where you spend the night. You don't necessarily have to stay in grim places though, India has many top budget hotels and modern hostels, at much cheaper prices than you will find in other Asian countries.
Consider Going Elsewhere If You...
Value Your Hygiene And Health
Hygiene, particular when it comes to food, can be a problem in India and many travellers succumb to the "Delhi belly", more commonly known as traveller's diarrhoea or food poisoning.
As you can imagine with such a high population, illness and infection occurs often and can spread fast, particularly thriving in the tropical climates.
Are A Female Travelling Alone
India can be an uncomfortable, and even dangerous country for female tourists, particularly when travelling alone. Read more in the Dangers and Considerations section below.
Top Places To Visit In India
India Need To Know
Basics
Languages: Hindi and English (along with another 20 recognised languages)

Currency: Indian Rupee (INR)

International Access Code: 00

Emergency Services Number: Police: 100 Fire: 101 Ambulance: 102

Time Difference: GMT +5.3
Entry
You must get a visa before travelling to India.
Your passport must have 2 blank pages for your visa and must be valid for a minimum of 180 days at the time of your visa application.
People with Pakistani origin (even if not a passport holder) will have difficulty obtaining a visa.
Yellow fever vaccination is required for travellers arriving from countries with risk of yellow fever transmission. If travelling from Pakistan, Israel, Kenya, Ethiopia, Nigeria, Afghanistan or Somalia you will be required to hold a valid polio vaccination certificate.
Indian government permits are required for travel to Sikkim, Arunachal Pradesh, and the Andaman and Nicobar Islands. You should apply well in advance (at least 3 months).
Application processes and prices of visas vary with nationality. For official information visit indianvisaonline.gov.in/visa/.
Getting Around
India is large so flying for a proportion of your trip is possible. The Indian airport experience can be extremely time consuming with long queues at check in and security, so be sure to arrive in ample time.
Travelling by train is the most popular and easiest method of transport - India has the largest network of railway lines in the world. Train travel is the best way to truly experience India and observe the scenic landscape of the country. It is also a great way to interact with the locals – they wil be very curious about you and may want to pass the time chatting to you.
Buses are mainly used to reach destinations that aren't covered by the rail network - long distance bus journeys are uncommon and not recommended.
Always go by the meter when taking taxis or auto-rickshaws. If the auto-rickshaw doesn't have a meter always negotiate the price beforehand to avoid being ripped off.
Avoid travelling alone on public transport, or in taxis or auto-rickshaws, especially at night.
If you have to use a taxi get them from hotel taxi ranks and use pre-paid taxis at airports. Try to avoid hailing taxis on the street.
Read more about Getting Around When You Get There here
Accommodation
India has a wide variety of hostels, budget guesthouses and travellers' hotels in major towns and tourist destinations. In more rural areas you will be limited to basic accommodation.
You can find accommodation for as little as 50 INR (50p) a night, but it obviously won't be very nice and unlikely to have hot water or linen provided. Cheap accommodation can also be very dangerous to your health - malaria is widespread so accommodation with nets, air conditioning or sealed windows are highly advised. Safety (i.e. electrical wiring), hygiene and cleanliness should all be taken in to consideration, as they can also have health implications.
Hostels average price range is between 100-500 INR (£1-5) per night. Guest houses and travellers' hotels range at about 300-900 INR (£3-9) per night.
Mid range hotels certainly won't damage your budget too much, at around 1,000-4,000 INR (£10-40) per night
You should ensure you carry a roll of toilet paper with you when staying in India, as it isn't always provided.
Read more about Accommodation When You Get There here
Food And Health
Many travellers to India experience food related illness, sometimes referred to as the Delhi belly. Be extra cautious with food hygiene when travelling in India and read here for general Food Hygiene and Safety Tips.
If you are not comfortable with spicy food it is best avoided. Ask vendors which dishes aren't spicy.
Water is not safe to drink - always buy bottled or boil.
Local medical facilities are not comparable to those in the developed world, especially in more remote areas. In major cities private medical care is available, but expensive. Make sure you arrange comprehensive medical insurance before you travel.
Dengue Fever and Malaria are present in India. Always contact your GP around 8 weeks before your trip to check whether you need any vaccinations or other preventive measures. Visit here for recommended vaccinations.
Weather & Time To Go
India is generally hot throughout the year, and the Southern part of the country rarely drops below 25°C.
Northern parts experience more extremes with cooler winters and very hot summers - Delhi falling as low as 7°C in January and as high as 38°C in May.
April and May are the hottest months, as they lead up to the monsoons.
The Southwest monsoon affects most parts of the country, and lasts from June to September.
The Northeast monsoon hits the east coast between October and February. North-Eastern India is the region that suffers most from both the monsoons and consequently has one the highest amount of rainfall in the world.
The Himalayan regions are of course considerably colder than the rest of the country, with regular snow fall.
Communications
Internet and wifi is widespread and accessible in most hostels. Local pay-as-you-go SIM cards for your mobile phone and international calling cards are cheaply available.
Dangers And Considerations
Travel bureaus advise against all travel to Manipur, large parts of Kashmir and the immediate vicinity of the border with Pakistan, other than at Wagah.
There is a high threat from terrorism throughout India and foreigners are vulnerable in rural districts and outside the main population centres and tourist areas.
In Mumbai, there is a risk of armed robbers holding up taxis along the main highway from the airport to the city in the early hours of the morning. If you are using this route during these times, arrange to travel by coach where possible or seek advice at the airport on arrival.
Women should use caution when in India, particularly if travelling alone. There have been several cases of sexual assault against women, including against tourists, in both tourist areas and cities. If you are a woman travelling in India you should respect local dress codes and customs and avoid isolated areas, including beaches, when alone at any time of day. Read more about general Safety Precautions For Females.
Take care of your passport and bank cards, particularly when travelling by bus and train. Do not leave your luggage unattended on trains at all. Don't accept food or drinks from strangers - there have been cases of travellers being drugged and then robbed on trains, often on overnight journeys.
Avoid beaches in Goa after dark. There is a risk of being attacked by packs of stray dogs, robbed or sexually assaulted. Drink spiking and bag snatching are also very common in Goa.
Stray dogs are common throughout India. The vast majority of dogs are harmless, but some may be rabid - India has the highest number of rabies cases in the world. Avoid dogs, don't pet or feed them, no matter how cute. Never run from them as this will encourage them to attack. Rabies is 100% fatal once symptoms develop, but symptoms are 100% preventable if you act immediately. If bitten by any dog or mammal in India wash the wound thoroughly with soap and visit a health professional for post exposure vaccinations.
Be wary of confidence tricksters, particularly in Goa, Agra and Jaipur, who promise large amounts of cash for delivery of jewellery abroad in return for an initial deposit.
Dangers constantly change. Always check with your foreign office (British Foreign Office webpage) or travel advice bureau for the latest information regarding your destinations safety.
Read more about Safety And Security here
Respecting Culture
The feet are considered the filthiest part of the human body - never place feet on chairs or tables, show the soles of your feet to anyone, or use your feet to point to something.
You are expected to remove your shoes when entering religious sites and private accommodation.
Currency, symbols of wealth (i.e. gold), books and written material are treated with respect, and should not be touched with the feet.
Indians generally dress conservatively, and both men and women should cover as much skin as possible, particularly the shoulders.
Profanity makes you look very bad in India and you will always lose an argument if you swear, so avoid it when you can.
Indians apologise by touching the offended person with the right hand, and then moving the hand to the chest and to the eyes. If you feel you may have offended someone it is a good idea to apologise in this way.
Avoid political discussion, particularly regarding Pakistan, China and the distribution of wealth.
Share This
You May Also Like To Read
Destinations
Keep updated by subscribing to our newsletter:
Did you find this helpful?
If you can't find the answer you are looking for Visit Our FAQ
If you still have unanswered questions in regards to this article, or anything else on this site, please Contact Us
Building and maintaining a website takes a lot of time, effort and money. If this website has helped or inspired you, a donation would be greatly appreciated. Thank you.