Go To Vietnam For...
Cuisine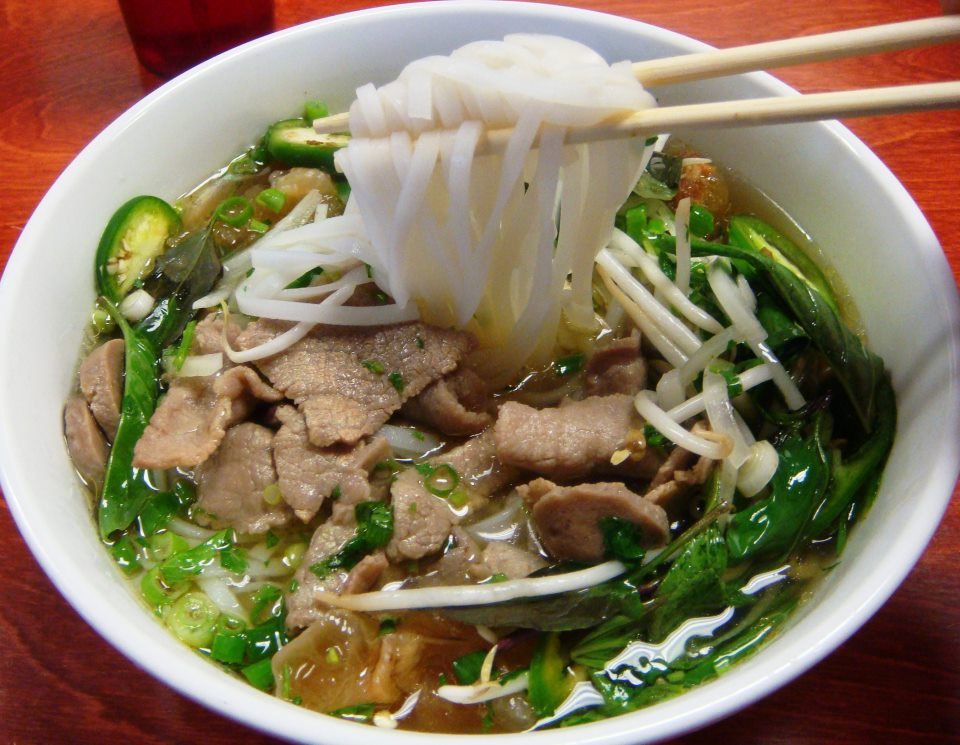 Bowl of Pho, probably the most commonly served dish in Vietnam.
Although relatively simplistic, Vietnamese food is fantastic and in my opinion the best in South East Asia. The ingredients are always fresh and flavoursome, with a huge variety of dishes on the menu, including plenty of oddities, if you dare to try them.
Diverse Landscapes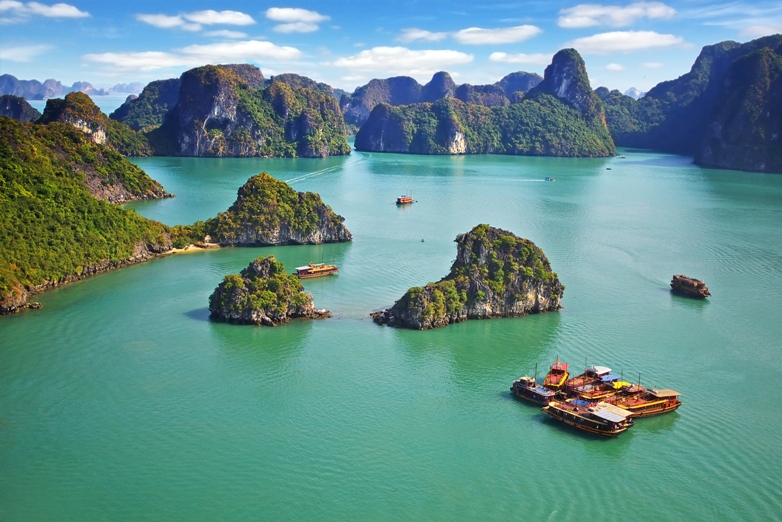 Ha Long Bay
Due to the length of Vietnam it stretches across many different climates and landscapes making the country incredibly diverse in terms of scenery. From the Alp like town of Da Lat, up along the magnificent coastline to the incredible floating limestone islands of Ha Long Bay, the landscape of the country constantly changes.
History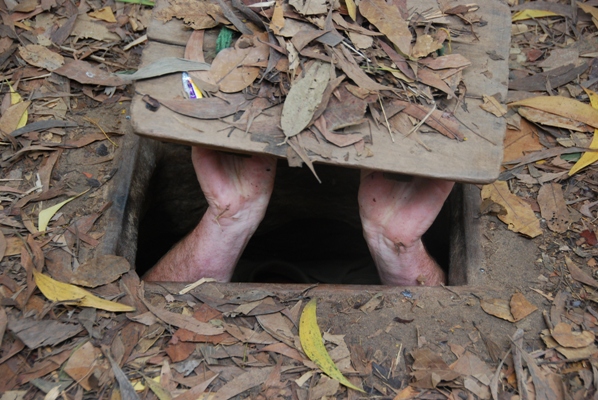 Explore the famous Cu Chi tunnels
There is no denying that the war is a major attraction to many of Vietnam's tourists. There are so many war sites and sights to visit throughout the country such as tunnels, prisons and battlefields.
A Road Less Travelled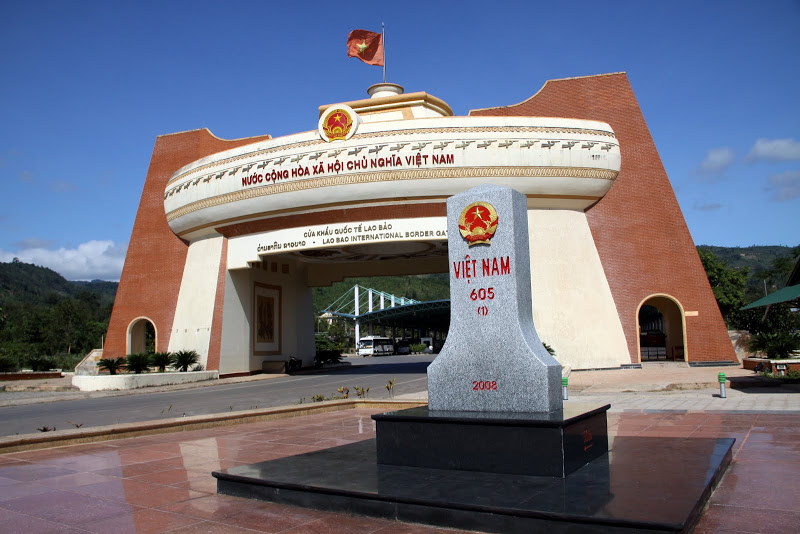 The Lao Bao border gate, between Laos and Vietnam.
There is something quite cool about visiting a place that not too many others have been to. Due to its history many people are wrongly put off by Vietnam and as a result it is a country not as used to tourists as other South East Asian destinations. You may feel like a bit of celebrity with excited locals coming up to you asking for photos and wanting to practice their English with you.
Consider Going Elsewhere If You...
Want Peace And Quiet
Rural areas are of course quiet and peaceful, but the majority of places in Vietnam aren't. I had a headache every day I was in Hanoi due the constant motorcycle beeping – even at 3am with nobody on the roads people still toot their horns. Even places you associate with serenity, like beaches, are often adjacent to a busy road.
Don't Want To Be Exploited
Vietnam is the scam capital of the world and you constantly feel on edge when in the larger towns and cities. You rarely get a moment without being hassled, overcharged or ripped off and for me it made my Vietnam experience a whole lot less enjoyable.
Top Places To Visit In Vietnam
Vietnam Need To Know
Basics
Currency: Vietnamese Dong (VND)

International Access Code: 00

Emergency Services Number: Police 113, Fire 114, Ambulance 115
Entry
You will need a visa to enter Vietnam, unless you are a passport holder of any of the below countries, where you be permitted to stay for the stated number of days without a visa:
• 15 days - Denmark, Finland, Japan, Norway, South Korea, Sweden, Russia
• 21 days - Philippines
• 30 days - Indonesia, Laos, Malaysia, Singapore, Thailand
If you require a visa, the best option is to get one from a Vietnamese Embassy before you travel. If you plan to leave Vietnam and re-enter from another country make sure you get a multiple visit visa.
The price of the visa varies with where you attain it. Obtaining a visa from a neighbouring country such as Laos ($50) or Cambodia ($60) is much cheaper than getting one through the Vietnamese embassy in your home country. Bear in mind the visa application process can take up to 3 working days.
Entry into Vietnam may be refused if your passport has less than 1 month validity from the date your Vietnamese visa expires.
Overstaying your Vietnamese visa without authority is a serious matter and you may be delayed from travel until a fine is paid.
Yellow fever vaccination is required for travellers arriving from countries with risk of yellow fever transmission.
Visa requirments and prices often change. For official information visit your nearest Vietnamese Embassy (Embassy to the UK).
Getting Around
Trains are the most comfortable way to travel in Vietnam, although are more expensive than buses. You should book your ticket a few days in advance to avoid disappointment. Booking at the train station is the best way to ensure you are getting the right ticket and value for money. Make sure you know your destination, date, time, number of passengers and class before booking at the station.
As mentioned above buses are cheaper than trains, but tend to be very uncomfortable in comparison as you are unable to get up and walk about, and are unusually very cramped inside. They're also considerably slower than trains.
Renting a car is almost impossible in Vietnam, but renting motorcycles is common. By law you are suppose to convert your home drivers license to a temporary Vietnamese licence and hold a three-month tourist visa to be able to drive a motorcycle. Be aware that if you ride unlicensed and have an accident in which a third party is injured or killed you could face 10-20 years in prison.
Cycling through Vietnam is becoming increasingly popular with backpackers and there are many adventure companies that can arrange this for you.
Air travel is a very feasible option in Vietnam, particularly between Hanoi and Ho Chi Minh - a 2 hour flight compared with a 34 hour train ride. Vietnam Airlines is now a very reputable airline.
Ensure taxis are licensed before taking them, and always go by the meter. Metered taxis from larger firms are generally reliable. The meter should start at around 8,000 to 20,000 VND. Always negotiate the price of other forms of taxi, i.e. tuk-tuk, beforehand to avoid being ripped off.
Read more about Getting Around When You Get There here
Accommodation
Vietnam offers arguably the best accommodation in South East Asia.
Vietnam has a wide variety of hostels and you should never have any problem finding one. The average price of a hostel is US$6-10 a night.
The majority of hostels in Vietnam will provide linen and bathroom facilities. Usually there will be internet facilities as well as a common area and laundry services.
Hotels and guesthouses are cheap and often of a high quality. Prices start at around US$15-20 a night per room, but can be a lot higher.
It is a legal requirement for all hotels to register the details of foreign guests with the local police. For this reason they will always ask for your passport when you check in, which shouldn't be for more than a few moments.
Read more about Accommodation When You Get There here
Food And Health
Due to improved hygiene conditions in recent years, cooked food sold by street vendors and in restaurants, including blended ice drinks, are mostly safe, but always use your instincts; if the place looks dirty, don't eat there; if your food isn't piping hot, don't eat it.
Water is not safe to drink - always buy bottled or boil.
Health care in the cities is adequate for minor injuries. More complicated treatment may require evacuation to another country. Healthcare in rural areas is extremely basic.
Make sure you have adequate travel health insurance and accessible funds to cover the cost of any medical treatment abroad and repatriation.
Dengue Fever and Malaria are present in Vietnam. Always contact your GP around 8 weeks before your trip to check whether you need any vaccinations or other preventive measures. Visit here for recommended vaccinations.
Weather & Time To Go
Vietnam is a diificult one weather wise as it has three different climate zones.
The North has traditional seasons with a mild winter (not getting much colder than 12°C), hot and wet summer, and pleasant spring and autumn seasons. In the northern highlands, there can be snow in the winter and extreme highs in summer hitting around 40°C.
Between September and February Central Vietnam experiences monsoons making it an unpleasant and difficult time to travel through.
The South's climate is similar to the rest of South East Asia with three seasons: hot and dry from March to May; tropical rain storms from June to November; with the best period for travel being the cooler and dryer December to February.
Communications
Internet and wifi is widespread and accessible in most hostels free of charge, as well as in most resturants and bars with purchase of food or drink. International calling cards are cheaply available.
Dangers And Considerations
Unexploded mines and ordnance are a continuing hazard in former battlefields, particularly in central Vietnam and along the Laos Border. Mined areas are often unmarked, don't stray off main routes when in rural areas.
Vietnam is a hotbed for scam artists. Go on gut feeling, you can usually sense when something is awry and if it sounds too good to be true, then it probably is. Never hand over money, possessions or details until you can be sure everything is legitimate.
Bag snatching is fairly common, including from people travelling on motorbikes. Thieves may also cut the straps or bottoms of bags.
Be vigilant against petty theft. Personal belongings are often stolen while people are asleep on trains and buses.
Penalties for possession, distribution or manufacture of drugs can be severe. Anyone found in possession of even a small amount of drugs can face the death sentence.
Illegal drugs are increasingly available in major cities and are often tampered with or spiked, and have caused fatal overdoses in the past from very small amounts amongst tourists.
Vietnam has a single party political system, which does not welcome dissent. You should avoid all protests, as some may turn violent.
Don't drink wine without recognised brand names. There have been deaths caused by fatal levels of methanol in rice wine.
Some specific medicines can be hard to find in Vietnam and many medications on sale are counterfeit. Therefore ensure you bring adequate supplies for the duration of your stay.
Dangers constantly change. Always check with your foreign office (British Foreign Office webpage) or travel advice bureau for the latest information regarding your destinations safety.
Read more about Safety And Security here
Respecting Culture
Most people find it suprising, but Vietnamese people do not bear any animosity against visitors from the countries that participated in the Vietnam War. However, it is best to avoid any conversations about the war, but if you must, be sensitive.
Be aware and remain netural when discussing politics, particually realtionships with China.
Foreign visitors to Vietnam are generally not permitted to invite Vietnamese nationals into their hotel rooms.
Never take photographs near military installations.
When entering religious or cultural sites respect local customs and dress in appropriate clothing.
Bear in mind that it is common to be stared at by locals in some regions.
Getting angry or losing your cool is a sign of weakness and therefore is extremely counter-productive.
Share This
You May Also Like To Read
Destinations
Keep updated by subscribing to our newsletter:
Did you find this helpful?
If you can't find the answer you are looking for Visit Our FAQ
If you still have unanswered questions in regards to this article, or anything else on this site, please Contact Us
Building and maintaining a website takes a lot of time, effort and money. If this website has helped or inspired you, a donation would be greatly appreciated. Thank you.