Go To The USA For...
Road Trips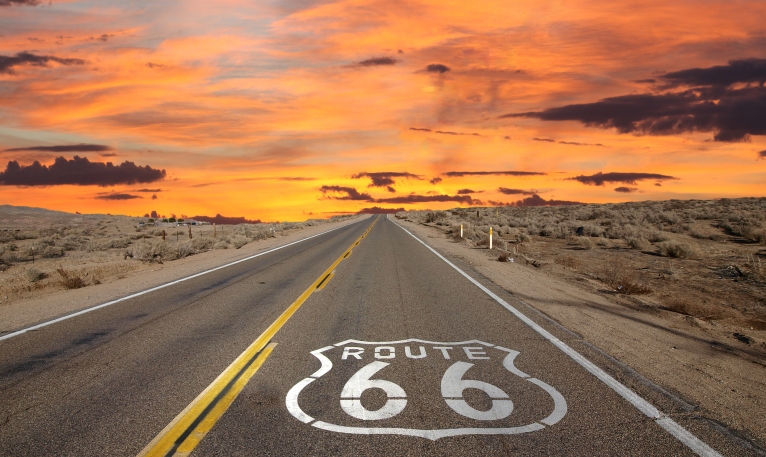 The legendary Route 66 highway.
The great American road trip is not only an epic way to see the USA, but also the best way to experience the "real" America. There are many great routes such as the Florida Keys Overseas Highway and California State Route 1, but none more legendary than the old Route 66.
Diverse Landscapes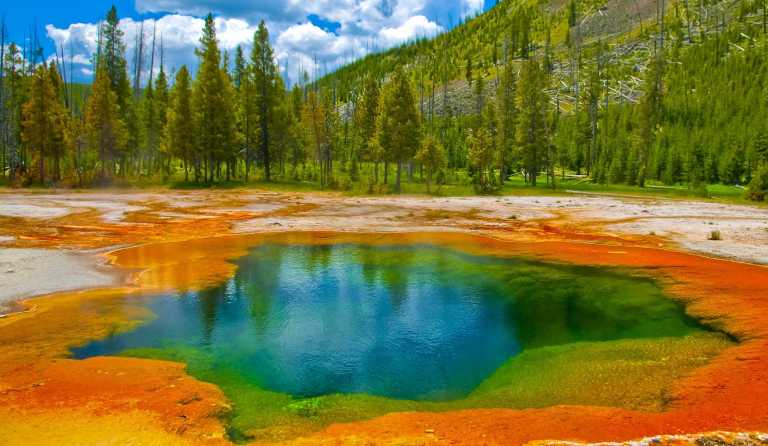 Morning Glory Pool, Yellowstone National Park.
From tropical islands to snow covered mountains; teeming cities to desolate deserts. One of the main theories as to why Americans travel abroad less frequently than other nationalities is because they have so much scenic diversity in their own country.
Iconic Cities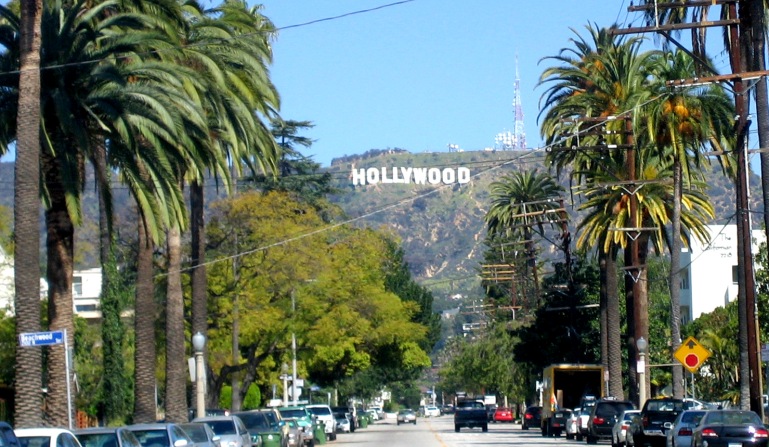 Hollywood, Los Angeles.
The US has some of the most iconic cities in the world, its highly likely one of your favourite films was set in one of them.
"Pig-out Joints"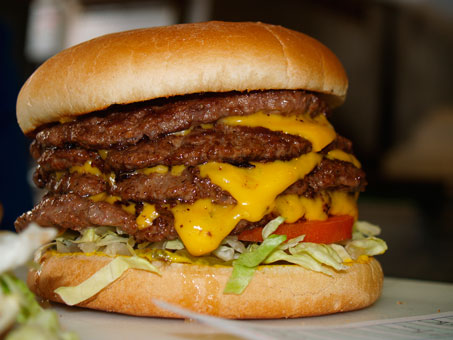 Quadruple cheeseburger.
Maybe not be to everybody's taste, but for many visitors the junk food and pig-out joints of the USA are guilty pleasures. Nowhere else serves bigger portions; even the smallest roadside cafe can offer the biggest of feasts.
Consider Going Elsewhere If You...
Don't Like Hidden Costs
Two of my pets hates about the USA are tipping and sales tax – there is nothing worse than thinking you have a bargain, then being reminded of the added 15% service charge and 20% sales tax when coming to pay. Obviously money saving is a vital part of backpacking, so added fees can scupper your plans and exceed your budget limits.
Want A Cultural Experience
If experiencing new and different cultures is something high on your to do list, then you aren't going to find it here, US culture is often described as being very generic and superficial. Asia or South America would be better destinations to visit.
Top Places To Visit In The USA
USA Need To Know
Basics
Currency: US Dollar (USD)

International Access Code: 011

Emergency Services Number: 911

Time Difference: 6 time zones;
GMT-5 to -10
Entry
The USA immigration process is strict and can be confusing, so seek official advice from either your government travel bureau or travel.state.gov, to avoid being refused entry.
Generally, citizens of most nations must first obtain a visa and can apply here.
However citizens of the 38 countries within the Visa Waiver Program (including The UK, New Zealand, Australia, Canada, and most EU nations), do not require advance visas for entry into the United States for 90 days. BUT you must apply and be approved via the Electronic System for Travel Authorization (ESTA) on-line (preferably at least 72 hours before travel). An ESTA approval is valid for two years (unless your passport expires earlier) and costs $14.
Travellers entering by air or sea must also have a return/onward ticket out of the United States.
Your passport should be valid for the proposed duration of your stay. You don't need any additional period of validity on your passport beyond this.
Getting Around
Due to the cheapness and ease of car travel, public transportation outside of major cities in the US is not as commonly used, developed, nor reliable as in many other countries, so self-driving is arguably the best way to get around the country. Skyscanner is a great car and RV rental comparison site, although it may be cheaper to buy a vehicle and sell it afterwards. Read here for more about choosing a campervan.
Alternatively as the US is so big, you may choose to fly between major cities and then go on tours to nearby attractions. For example the Grand Canyon is cheaply and easily accessible from Las Vegas. Coast-to-coast flying takes between 5 and 6 hours.
Security checks at all airports in the US are very time consuming, so arrive at the airport with plenty of time before your flight.
Often the cheapest and best way to get around is an organised tour, there are many tour operators throughout the US and they can be easily found through Google.
For some legs of your trip train travel may be a viable option, particularly short distance, intercity or inner-state travel. You can view timetable information and buy tickets via Amtrak. The same can be said for coach travel, with Greyhound being the major operator.
Hitchhiking isn't as easy or common as it used to be due to some high profile incidents (mainly hitch-hikers attacking drivers, not the other way around), it is best avoided unless you have extremely limited funds and plenty of time. Finding a rideshare on Craigslist will be a quicker and possibly safer option.
Read more about Getting Around When You Get There here
Accommodation
Hostels are common in cities, but elsewhere you may only find motels and budget inns costing between $30 and $70 a night.
The average price of a hostel is $35 a night, but up to $50 in cities such as New York.
All hostels in the USA will provide linen, cooking and bathroom facilities. Usually there will be internet facilities as well as common and laundry rooms.
Campground costs around $7-$20 a night.
Read more about Accommodation When You Get There here
Food And Health
The standard of food safety and hygiene is good, and there are plenty of places to eat out cheaply, if you do not wish to cook. Major supermarkets include; Walmart, Safeway and Albertsons.
Medical treatment is expensive, make sure you have adequate travel health insurance and accessible funds to cover the cost of any medical treatment abroad and repatriation.
There are occasional outbreaks of mosquito-borne diseases in tropical regions, so you should take suitable steps to avoid being bitten by mosquitoes.
Always contact your GP around 8 weeks before your trip to check whether you need any vaccinations or other preventive measures. Visit here for recommended vaccinations.
Weather & Time To Go
The northern and central regions have a temperate climate. The deep southern areas along the Gulf Coast and Florida are subtropical, and southern Florida and Hawaii are tropical. California has a pleasant Mediterranean climate, and south western areas are arid desert, so very hot and dry.
Generally the whole of the USA has warm to hot summers, with the south western deserts often reaching between 38-46°C. Summer temperatures on average in the USA range from 21 to 32°C.
In winter there is significant change and diversity in weather across the country. In most northern regions temperatures frequently drop below zero, with considerable snowfall; whilst the deep south, the south western deserts, and Florida have highs around 15-26°C.
The hurricane season normally runs from June to November and mainly affects south east coastal regions.
Communications
Internet and wifi is widespread and accessible in most hostels. Local pay-as-you-go SIM cards for your mobile phone and international calling cards are cheaply available.
Mobile phone networks generally works well, but coverage in wild and desert areas can be very limited or non-existent.
Dangers And Considerations
Crime levels are generally low. Violent crime, including gun crime, rarely involves tourists and is heavily concentrated in poorer inner city neighbourhoods, so you should take care when travelling in unfamiliar areas. Take sensible precautions to protect yourself and your property against petty crime.
If self-driving, check the weather conditions before embarking on a long journey, particularly in mountainous and isolated areas where there is increased likelihood of snowfall, or in dry desert areas where you may need extra water and petrol stations could be scarce. Always inform people of your plans when travelling through or hiking in remote areas.
The USA is prone to natural disasters. Alaska, California, Hawaii, Nevada, Oregon, and Washington states are prone to earthquakes. Tornadoes can occur at any time of the year depending on weather conditions, particularly in Tornado Alley, between the Rocky Mountains and the Appalachian Mountains. Wild fires are a danger in many dry areas, blizzards are common in winter, and hurricanes affect south east coastal regions from June to November. Follow the advice of TV reports, local authorities, and emergency services in the event of a natural disaster.
Although much rarer than in Africa and Asia, rabies is prevalent, particularly in eastern regions; if you are bitten by any mammal seek medical attention immediately.
The US has a large number of dangerous animals including bears, snakes, mountain lions, coyotes and alligators. Be cautious, look out for warning signs and heed local advice.
Dangers constantly change. Always check with your foreign office (British Foreign Office webpage) or travel advice bureau for the latest information regarding your destinations safety.
Read more about Safety And Security here
Respecting Culture
Tipping in America is expected for nearly every form of service; even taxi's you are supposed to leave 10-20% on top of the meter price. Restaurants and bars service fees are usually 15-20% and may be included on the bill automatically. Even frivolous services like those provided by doormen and bellhops may expect a $1-2 tip.
Don't make offhand remarks about bombs or terrorism, especially when passing through US airports.
American's are very patriotic, critical remarks about the U.S. military or foreign policy are not often welcome from outsiders. It is also illegal to keep/ collect bald eagle's feathers, resulting in a $100,000 fine for each feather you possess.
You May Also Like To Read
Destinations
Keep updated by subscribing to our newsletter:
Did you find this helpful?
If you can't find the answer you are looking for Visit Our FAQ
If you still have unanswered questions in regards to this article, or anything else on this site, please Contact Us
Building and maintaining a website takes a lot of time, effort and money. If this website has helped or inspired you, a donation would be greatly appreciated. Thank you.